Bedtime Stories For Kids Daily Challenge Daily Sleep Stories & Guided Meditation To Help Toddlers& Kids Fall Asleep Fast, Develop Mindfulness, Bond Wi (Hardcover)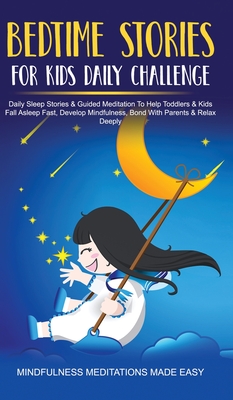 $27.56
In Our Warehouse - Expected arrival in 2-5 days
Description
---
Discover How TO Help Your Child Fall Asleep Every Night As You Bond With Them Using Bedtime Stories
Welcome To The Bedtime Stories Revolution
Here at Meditation Made Effortless we have made it our mission to create the Bedtime Stories revolution, and help parents and Kids enjoy a daily Bedtime Story before sleep.
Why?
We strongly believe in the power of Bedtime Stories for several reasons.
Firstly, Bedtime Stories help children sleep, which has become an issue for many children in this tech-fueled society.
Bedtime Stories can become a part of your Child's nightly routine to help them relax and develop healthy sleep habits.
Sleep is essential to your Child's development. Adequate amounts of sleep leads to improved attention, behavior, learning, memory, quality of life & mental health
Bedtime Stories are about much more than just sleep though.
They allow you and your child to deeply connect at the end of each day, a time your Child will cherish for years to come.
And, then we have the vast amount of benefits children get as a result of listening to or being read (you get the PDF version of this Audiobook with every purchase ) a Bedtime Story every night.
Study after study has shown how Bedtime Stories help improve Children's wellbeing, learning potential, creativity, boost Child-Parent bonding, make them happier than scrolling on their iPad & inspire Children to become amazing creators. So, now you know why we are doing this, here's a slither of what's inside this collection...
And SO Much More So If You Want To Bond Deeply With Your Child Every Night, While Helping Them Get The Healing Sleep They Need, Then Scroll Up And Click "Add To Cart."