Urdesh: The Serpent and the Saint (Warhammer 40,000) (Paperback)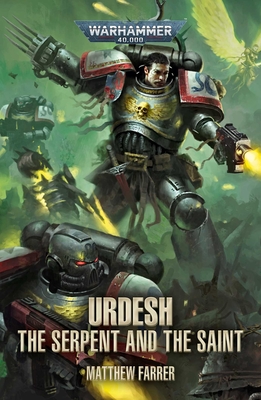 $16.00
Email or call for price.
Description
---
Join the Iron Snakes as they battle for survival on the desolate Forge World of Urdesh.

The mighty world of Urdesh is burning. The smoke of war mingles with that of her many volcanoes; the wreckage of battle litters her forge-cities and chokes her fertile seas. Until the warriors of the Imperium can free Urdesh from the grip of the Anarch, the future of the entire Sabbat Worlds Crusade will hang in the balance.

Across these ashen battlefields strides Brother-Captain Priad and the warriors of Damocles Squad. They must keep safe one of the Imperium's greatest weapons: the Beati, the reincarnated Saint Sabbat herself, whose very presence on Urdesh inspires the Imperial armies on to glory. But the enemy has plans for the Saint too, and against the malice of the Anarch and the trickery of the warp the Iron Snakes may truly need a miracle to prevail…


About the Author
---
Matthew Farrer is the author of the novella The Inheritor King, which appears in Sabbat Crusade. He also wrote the Warhammer 40,000 novels Crossfire, Legacy and Blind, along with numerous short stories, including 'The Headstone' and 'Hammerstone Kings' for Sabbat Worlds and the Horus Heresy tales 'After Desh'ea' and 'Vorax'. He lives and works in Australia.