Kolorowanka dla 4-5-latków (Morze): Ta książka zawiera 40 stron bezstresowych kolorowanek w celu zmniejszenia frustracji i zwiększenia (Paperback)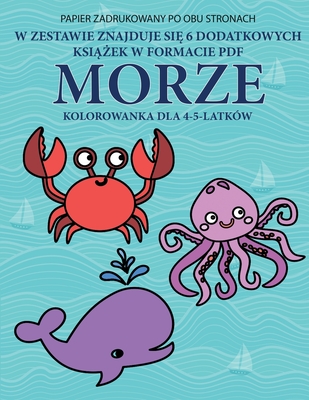 $11.94
In Our Warehouse - Expected arrival in 2-5 days
Description
---
Czy szukasz zabawnego i angażującego umyslowo sposobu, kt ry pomoże Twojemu dziecku rozwijac i doskonalic swoje umiejętności motoryczne?
Potrzebujesz prostego, ale ekscytującego sposobu, aby pom c dziecku w nauce podstaw rysowania i ruchu dlugopisem?
Pozw l swojemu dziecku odkryc świat możliwości i wyobraźni
Te kolorowanki są fantastycznym sposobem na zainteresowanie dzieci wspanialym i kreatywnym światem kolorowania, a jednocześnie nauczenie ich podstaw obslugi przybor w do rysowania. To proste cwiczenie pomaga im rozwijac ich drobne zdolności motoryczne, gdy ich uwaga na naukę i używanie dlugopisu lub ol wka jest najsilniejsza.
Każda książka zawiera 40 stron do pokolorowania. Kolorowanki w naszej dziecięcej kolorowance zawierają proste, ale wystarczająco skomplikowane wzory, kt re pomagają nauczyc dziecko podstaw ruchu dlugopisu i ol wka, a jednocześnie oferują mu swobodę w doborze kolor w. Kiedy Twoje dziecko wypelni jedną z kolorowanek w naszej książeczce, zalecamy wręczanie mu nagrody, kt ra pobudzi jego kreatywnośc, a także pobudzi chęc do dalszego rozwoju.
Potrzebujesz więcej powod w, aby nas wybrac?
W zestawie znajduje się 6 plik w pdf kolorowanek do pobrania
Nasze kolorowanki dla dzieci to świetny spos b na nawiązanie więzi z dziecmi i zrozumienie ich procesu tw rczego przez rodzic w i opiekun w.
Oferujemy zabawne doświadczenie, kt re jest wciągające i pomocne w rozwoju Twojego malego dziecka.
Kliknij przycisk "Dodaj do koszyka" i pozw l swojemu dziecku poznac podstawowe podstawy ruchu ol wka i dlugopisu w zabawny i wciągający spos b z naszymi kolorowankami, już dziś
Szczeg ly techniczne
Ta książka zawiera 40 kolorowanek dla dzieci. Pomoże to Twojemu dziecku w rozwoju jego drobnych zdolności manualnych, umiejętności motorycznych i utrzymaniu uwagi.
W cenie tej książki otrzymasz r wnież zgodę na bezplatne pobranie 6 innych książek z tej serii w formacie PDF. Szczeg ly dotyczące a) sposobu pobierania plik w PDF oraz b) gdzie znajduje się haslo, znajdują się wewnątrz książki.
Cechy książki
Miękka okladka
Strony kolorowe mogą byc drukowane przy użyciu dostarczonych plik w PDF. Oznacza to, że Twoje dziecko może zacząc od nowa na następnej stronie, jeśli sobie tego życzy. Rodzice i nauczyciele mogą r wnież w razie potrzeby wydrukowac arkusze na grubszym papierze.
40 czarno-bialych kolorowych stron
8,5 cala na 11,0 cala
Papier 200gms
Doskonaly prezent