Oh Sweet Charity: A Seven Virtues Ranch Romance Book 3 (Paperback)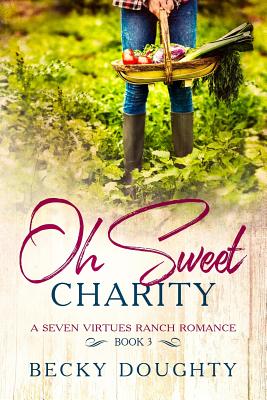 $13.99
Email or call for price.
Description
---
She saves. He slaughters. Sometimes opposites really don't attract.
Veterinarian Hope Goodacre is the woman to call when your pet is ailing, your cow stops eating, or your horse goes lame.
She understands animals a whole lot better than she does people; that's for sure. She's sworn off men in particular since her ex-husband walked away from their marriage a few weeks before their second anniversary.
She should have seen the signs - apparently, everyone else did. But Hope... well, Hope hoped.
Local butcher Levi Valiente is exceptionally skilled with a curved blade and a bone saw. He's also a good man, a great dad, and he knows how to treat the women in his life.
Except, perhaps, for his ex-wife, who walked out on their family a few months before their daughter's first birthday.
But Levi's tired of hiding his great big heart behind the shield of self-doubt he carries, and he'd like to believe that where there's Doc Hope, there's a good chance of happily ever after, too.
Hope, however, might take some convincing. Not only is the strong and silent single dad a little too handsome for his own good - for her own good - but he makes his living off dead animals, while her job is to keep them alive.
If you like small town settings, opposites attract romance, and hometown heroes, then you'll love Where There is Hope, the second book in The Seven Virtues Ranch Romance Series.
Come make yourself at home in Plumwood Hollow where life happens a little slower, but hearts might just be a little bigger, and love might just taste a little sweeter.
Award-winning author, Becky Doughty, delivers more wholesome, sweet romances about sisters in her new Seven Virtues Ranch Romance Series.
Pick up Where There is Hope today and let yourself fall in love all over again.