Trail to Clear Creek (Paperback)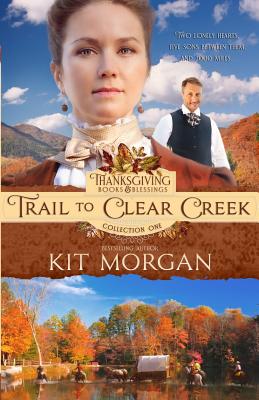 $12.95
Email or call for price.
Description
---
At Long Last The Story Kit Morgan fans have been waiting for Honoria Sayer and her husband Benedict had a dream. Go to America with their three sons, travel west, and start a cattle ranch. Unfortunately, Benedict only made it as far as Independence, Missouri. Her husband gone, Honoria must choose. Go West and fulfill his dream, or go back to England? She chooses the dream. And, as luck would have it, to make it a reality, she must do the unthinkable. Get married.Jefferson Cooke wasn't looking for a wife. Heck, he and his two sons were heading West to make a fresh start. Then along came Honoria Sayer. Beautiful, refined, a real lady. Not to mention a disaster on the Oregon Trail. So why was he considering the unthinkable?Enjoy this sweet, clean, western romance set against the backdrop of the Oregon Trail And check out the rest of the books in the Thanksgiving Books and Blessings Collection One Series.THANKSGIVING BOOKS & BLESSINGS, Collection One
- Book 1: GONE TO TEXAS By Caryl McAdoo
- Book 2: GATEWAY TO THE WEST By Susette Williams
- Book 3: TRAIL TO CLEAR CREEK By Kit Morgan
- Book 4: HEART AND HOME By Pauline Creeden
- Book 5: NO TURNING BACK By Lynette Sowell
- Book 6: DAUGHTER OF DEFIANCE By Heather Blanton
- Book 7: NUGGET NATE: MOYA'S THANKSGIVING PROPOSAL By George McVey
- Book 8: UNMISTAKABLY YOURS By Kristin Holt
- Book 9: ESTHER'S TEMPTATION By Lena Nelson Dooley.