Vaults of Obsidian (Warhammer 40,000) (Paperback)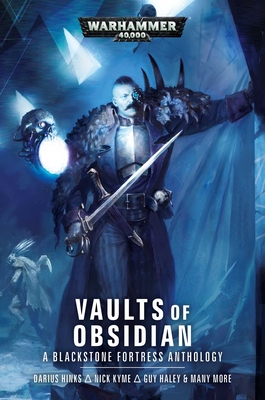 $16.00
Email or call for price.
Description
---
A Blackstone Fortress Anthology

For uncountable ages the Blackstone Fortress has kept its watchful silence. It patiently waits, willing those brave enough to gamble everything exploring its halls. Only the most determined of adventurers will return with riches – the unworthy are never seen again. But to many, the rewards far outweigh the risks. Among the denizens of Precipice, ratlings, robots, and rogue traders all pursue their own agendas, pitting themselves against the myriad forces of darkness that have claimed the fortress as their own. Deadliest of all is Obsidius Mallex, who aims to twist another Talisman of Vaul to Chaos' unholy cause. Unless this traitor is stopped, the galaxy will burn beneath the wrath of the Ruinous Gods.

This anthology contains short stories from Darius Hinks, Guy Haley, Nick Kyme, Thomas Parrot and many more.

About the Author
---
Darius Hinks is the author of the Warhammer 40,000 novels Blackstone Fortress, Blackstone Fortress: Ascension and the accompanying audio drama The Beast Inside. He also wrote three novels in the Mephiston series: Blood of Sanguinius, Revenant Crusade and City of Light, as well as the Space Marine Battles novella Sanctus. His work for Age of Sigmar includes Dominion, Hammers of Sigmar, Warqueen and the Gotrek Gurnisson novels Ghoulslayer, Gitslayer and Soulslayer. For Warhammer, he wrote Warrior Priest, which won the David Gemmell Morningstar Award for best newcomer, as well as the Orion trilogy, Sigvald and several novellas.