Belgium - Culture Smart!: The Essential Guide to Customs & Culture (Paperback)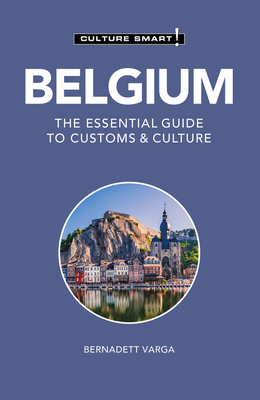 $12.99

In Our Warehouse - Expected arrival in 2-5 days
Description
---
Don't just see the sights—get to know the people.
Belgium has somehow acquired the reputation of being Europe's most boring country—a reputation that is entirely undeserved. But perhaps this bland image is a smokescreen, the conventional exterior hiding a subversive sense of humor, a surreal imagination, and a deep-rooted disdain for authority. Or perhaps it is a camouflage, a way in which Belgium, still overrun—however peacefully—by foreigners, can keep a few of its secrets to itself.
Two main factors seem to determine the values Belgians hold and the ways they approach life: the effects of the linguistic divide, and the country's long history of exposure to other cultures through trade, war, and occupation—its experience of being simultaneously very small and very strategically placed.
Culture Smart! Belgium will help you navigate these swirling waters. It is for anyone who wants to understand Belgian society and encounter it with sensitivity and poise. We trace the land's turbulent history and look at how the past has shaped the collective and personal values of today's Belgians. We look at the Belgian people at work, at play, and at home, and offer tips to help you get along with the people you will meet, on both sides of the divide, and navigate the new situations that you are likely to encounter.
Have a richer and more meaningful experience abroad through a better understanding of the local culture. Chapters on history, values, attitudes, and traditions will help you to better understand your hosts, while tips on etiquette and communicating will help you to navigate unfamiliar situations and avoid faux pas.
About the Author
---
Bernadett Varga is a Brussels-based public health and communications professional. Born in Hungary, she has a B.Sc. in Communications from the University of Szeged and an M.Sc. in Public Health from the University of Maastricht, The Netherlands. Having lived in the USA, the Netherlands, and Denmark before moving to Belgium in 2015, she is no stranger to culture shock and the process of acclimating to new environments. Today her work focuses on improving access to healthcare services for disadvantaged and vulnerable populations in Europe.
Praise For…
---
"Culture Smart! has come to the rescue of hapless travellers," —Sunday Times Travel
 

"…the perfect introduction to the weird, wonderful and downright odd quirks and customs of various countries," —Global Travel

 

"…full of fascinating, as well as common sense, tips to help you avoid embarrassing faux pas," —Observer

 

"…as useful as they are entertaining," —Easy Jet Magazine 

 

"…offer glimpses into the psyche of a faraway world," —New York Times