Arthur, High King of Britain (Hardcover)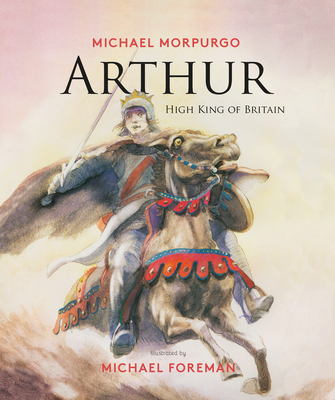 $24.99
In Our Warehouse - Expected arrival in 2-5 days
Description
---
Michael Morpurgo's imaginative retelling of the King Arthur and his Knights of the Round Table tales, accompanied by Michael Foreman's stunning illustrations A boy sets out to hike across the sea bed at low tide to an island not too far offshore, determined to prove that he could make it there and back again alive. A short doze in the sunshine on the island and a sudden fog, however, leaves him in dire straits. Trapped on a sandbank, the sea closes in all around him. He is a strong swimmer, but the sea current is certain to drag him down into its depths. The last thing he thinks in the cold, dark water is that Heaven will be warm and dry. Then he awakens in bed, a roaring fire burning nearby. He is in a grand hall and sitting by the fire is an old man with his dog. The old man is the legendary warrior King Arthur, and as he recovers by the fire, the boy hears the most magnificent stories of heroic knights and deeds of great chivalry, but also bewitchment, evil, and betrayal at Camelot. Together, Michael Morpurgo and Michael Foreman succeed in presenting the well-known legends in a way that is both captivating to read and a delight to the eye.
About the Author
---
Michael Morpurgo, OBE, has written more than100 books, including the international bestseller War Horse. Michael Foreman's numerous books for children have earned him widespread recognition as one of the world's best-loved illustrators.
Praise For…
---
"Beautifully presented and certain to attract browsers. It is Morpurgo's faithfulness to the original stories, however, and the fine writing that captures all the adventure, drama, and tragedy that will engage readers." —Booklist

"Morpurgo's imaginative retelling of the story of King Arthur and his Knights of the Round Table is accompanied by stunning illustrations created by Michael Foreman. This is a handsomely produced new hardback edition." —Achuka
 

"Fantastic stories, retold by a master storyteller—what could be better?The stories are beautifully told, the perfect introduction to these enduring tales; they will engage readers and stimulate their interest. Michael Foreman's beautiful illustrations set the scene to perfection." —Parents in Touch
 

"Retold in Morpurgo's exquisite prose, it's a dazzling mix of amazing chivalry, bravery and magical legend fused together with the most amazing illustrations by Michael Foreman." —Read it, Daddy!