New Suns 2: Original Speculative Fiction by People of Color (Paperback)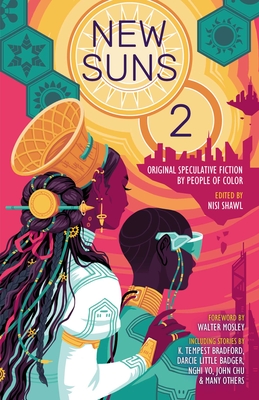 $16.99

In Our Warehouse - Expected arrival in 2-5 days
Description
---
The stunning follow-up to the multiple-award-winning anthology of SFF by people of colour

Octavia E. Butler said, "There's nothing new under the sun, but there are new suns."

New Suns 2 brings you fresh visions of the strange, the unexpected, the shocking—breakthrough stories, stories shining with emerging truths, stories that pierce stale preconceptions with their beauty and bravery. Like the first New Suns anthology (winner of the World Fantasy, Locus, IGNYTE, and British Fantasy awards), this book liberates writers of many races to tell us tales no one has ever told.

Many things come in twos: dualities, binaries, halves, and alternates. Twos are found throughout New Suns 2, in eighteen science fiction, fantasy, and horror stories revealing daring futures, hidden pasts, and present-day worlds filled with unmapped wonders.

Including stories by Daniel H. Wilson, K. Tempest Bradford, Darcie Little Badger, Geetanjali Vandemark, John Chu, Nghi Vo, Tananarive Due, Alex Jennings, Karin Lowachee, Saad Hossain, Hiromi Goto, Minsoo Kang, Tlotlo Tsamaase, Rochita Loenen-Ruiz, Malka Older, Kathleen Alcalá, Christopher Caldwell and Jaymee Goh with a foreword by Walter Mosley and an afterword by Dr. Grace Dillon.
About the Author
---
Nisi Shawl is an African American writer and editor best known for the first multiple award-winning New Suns anthology and for their 2016 Nebula finalist novel Everfair. In 2019 they received the Kate Wilhelm Solstice Award for distinguished service to the genre. Prior to putting together New Suns, they edited and co-edited WisCon Chronicles 5: Writing and Racial Identity; Bloodchildren: Stories by the Octavia Butler Scholars; Strange Matings: Science Fiction, Feminism, African American Voices, and Octavia E. Butler; and Stories for Chip: A Tribute to Samuel R. Delany. Shawl lives in Seattle, where they take frequent walks with their cat.

Dr. Darcie Little Badger is a Lipan Apache geoscientist and writer. Her short fiction has appeared in multiple places, including Love Beyond Body, Space, and Time, Robot Dinosaur Stories, Strange Horizons, The Dark, Lightspeed, and Cicada Magazine. Darcie's debut comic, "Worst Bargain in Town," was published in Moonshot: The Indigenous Comics Collection, Volume 2. She lives with one dog named Rosie and all of Rosie's toys.

Alex Jennings is a writer/teacher/performer living in New Orleans. He was born in Wiesbaden (Germany) and raised in Gaborone (Botswana), Tunis (Tunisia), Paramaribo (Surinam), and the United States. He constantly devours pop culture and writes mostly jokes on Twitter (@magicknegro). He also helps run and MCs a monthly literary readings series called Dogfish. He is an afternoon person.

Karin Lowachee was born in South America, grew up in Canada, and worked in the Arctic. Her first novel, Warchild, won the 2001 Warner Aspect First Novel Contest. Both Warchild and her third novel, Cagebird, were finalists for the Philip K. Dick Award. Cagebird won the Prix Aurora Award for Best Long-Form Work in English. Her short stories have appeared in anthologies edited by Nalo Hopkinson, John Joseph Adams, and Ann VanderMeer. She can be found on twitter at @karinlow.

Hiromi Goto is an emigrant from Japan who gratefully resides on the Unceded Musqueam, Skwxwú7mesh, and Tsleil Waututh Territories. She's written four books for adults and three books for youth, and has won numerous prizes including the James Tiptree, Jr. Literary Award, the Sunburst Award, and the Carl Brandon Parallax Award. She has a graphic novel pending with First Second Books. Hiromi is currently at work trying to decolonize her relationship to the Land and to her writing.

Minsoo Kang is the author of the short story collection Of Tales and Enigmas, the history book Sublime Dreams of Living Machines: The Automaton in the European Imagination, and the translator of the Penguin Classic The Story of Hong Gildong. His stories have appeared in Strange Horizons, The Magazine of Fantasy and Science Fiction, Fantastic Stories of the Imagination, Azalea, Lady Churchill's Rosebud Wristlet, and two anthologies. He is an associate professor of history at the University of Missouri St. Louis.

Kathleen Alcalá is a Clarion West graduate and instructor, the award-winning author of six books, a recent Whitely Fellow, and a previous Hugo House Writer in Residence. Her latest book, The Deepest Roots: Finding Food and Community on a Pacific Northwest Island, explores relationships with geography, history, and ethnicity. Ursula K. Le Guin said of Alcalá's story collection Mrs. Vargas and the Dead Naturalist: "Not one tale is like another, yet all together they form a beautiful whole, a world where one would like to stay forever."

Jaymee Goh is a writer, poet, critic, reviewer, and editor of science fiction and fantasy. She graduated from the Clarion Science Fiction and Fantasy Writers Workshop in 2016, and holds a PhD from the University of California, Riverside. She has been published in places like Strange Horizons, Lightspeed Magazine, and Science Fiction Studies. She coedited The Sea is Ours: Tales of Steampunk Southeast Asia (Rosarium Publishing), and edited The WisCon Chronicles Vol. 11: Trials By Whiteness (Aqueduct Press).
Praise For…
---
"This book's wide range of stories is its greatest strength; though no reader will love them all, every reader will find something worth rereading." -- Publishers Weekly, starred review on New Suns

"A varied, rich, and delightful collection of new speculative fiction... Get hold of this excellent anthology. You won't regret it." -- LA Review of Books on New Suns

"This is a strongly balanced anthology, and a powerful one – surely one of the best original an­thologies of 2019." -- Locus on New Suns

"An earnest compilation of voices from many ethnicities and backgrounds, exploring their experiences as people of colour, and as marginalised people." -- Tor.com on New Suns

"New Suns does more than offer a diverse group of writers of colour from different backgrounds: it also offers a diversity of the futures that can be possible in the speculative canon." -- Strange Horizons on New Suns

"New Suns showcases contemporary talents with a purpose, and does so extraordinarily well. This book is one of the strongest anthologies I have read in years, and I highly recommend it!" -- Future Fire

"A blockbuster miscellany" -- Aurealis

"New Suns 2 offers a composite picture of the best work being done in genre fiction right now" -- The Washington Post