The Story of Space: A first book about our universe (Hardcover)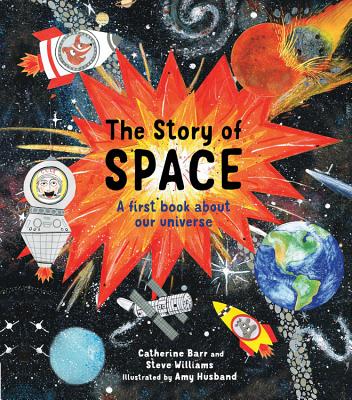 Email or call for price.
Out of Print - Not Available at This Time
Description
---
Before the Big Bang there was NOTHING AT ALL.
No galaxies, no space, no light and no sound.
Then suddenly, 13.8 billion years ago, IT ALL BEGAN…
This beautiful follow-up to The Story of Life brings to life the story of our universe for younger children. Travel back in time to the Big Bang, see galaxies and stars form, watch the birth of our planet and how life begins, join the first man on the moon, and wonder what mysteries are still waiting to be discovered.
About the Author
---
CATHERINE BARR studied Ecology at Leeds University and trained as a journalist. She worked at Greenpeace International for seven years as a wildlife and forestry campaigner and has a long-running interest in environmental issues. While working as an editor at the Natural History Museum, she researched and wrote two major summer exhibitions: Dinosaurs of the Gobi Desert and Myths and Monsters. She is now a partner in communications company bwa design. She lives on a hill near Hay-on-Wye in Herefordshire with her partner and two daughters.STEVE WILLIAMS is a biologist with a degree in Marine Biology and Applied Zoology from the University of Wales. His lifelong love of wildlife was further inspired by eight years at sea, after which he trained as a teacher, and now teaches science in a rural comprehensive school in Wales. He is a beekeeper and lives near Hay-on-Wye with his wife and two daughters.AMY HUSBAND studied Graphic Art at Liverpool School of Art. Her first picture book, Dear Miss, was winner of the Cambridgeshire Children's Picture Book Award in 2010, and she also wrote and illustrated Dear Santa, in the same series. Amy lives in York with her partner, working in a studio with views of York Minster. The Story of Life is her first book for Frances Lincoln.
Praise For…
---
"A brilliantly clear and perfectly pitched account of the universe, from the moment of the big bang to life on earth in the present day." - Hannah Beckerman, for The Huffington Post United Kingdom edition

"In simple yet clear language, Barr and Williams examine the history of space, beginning more than 13.8 billion years ago and concluding with modern space exploration...VERDICT A solid introduction to bolster space collections." - Maren Ostergard, for School Library Journal

"The alluring cover and bright, detailed two-page spreads are sure to attract browsers as well as budding astronomers, and present an intriguing introduction to our cosmos." - Kathleen McBroom for Booklist Online Exclusive

"The text may be challenging for young readers, though a glossary at the back of the book helps with definitions. This is an engaging nonfiction title that would be a good choice for an elementary library's space collection." - Jo Monahan, Librarian, University of North Texas Libraries, Denton, Texas in a Recommended Review for School Library Connection