Iron Towns (Paperback)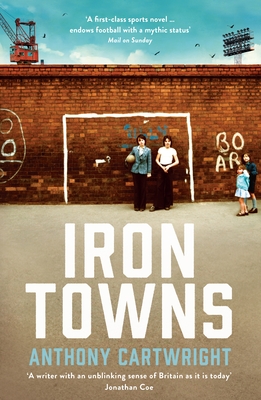 $14.95
Email or call for price.
Description
---
Twenty years ago, Liam Corwen and Dee Dee Ahmed were on the cusp of a better future, Liam as a promising footballer and Dee Dee as a singer in a girl band. Now they're both eking out an existence back in their home town. As the old steelworks rust and the local football club limps towards relegation and liquidation, Dee Dee recalls the tragic events that changed their lives. Liam thinks back to the great players of the past, and wonders: could redemption, greatness even, still wait for them, here among the abandoned cranes and docks and housing estates? Evoking the landscape and myth of old, forgotten England, Iron Towns is a story of our dreams of youth, football, and industrial progress - and what happens when those dreams recede into the past. New paperback edition featuring Cartwright's acclaimed essay on the EU referendum.
About the Author
---
Anthony Cartwright was born in Dudley in 1973. His first novel The Afterglow won a Betty Trask Award and was shortlisted for several other literary prizes; his second novel Heartland was shortlisted for the Commonwealth Writers' Prize and was adapted for BBC Radio 4's Book at Bedtime; his third novel How I Killed Margaret Thatcher was shortlisted for the Gordon Burn Prize and was a Fiction Uncovered 2013 selection. He worked as an English teacher in schools in London and the Midlands for over ten years and is currently a First Story writer-in-residence at two schools. He lives in London with his wife and son.