The Complete Jane Austen Collection: Volume Two: Emma, Northanger Abbey, Persuasion, Lady Susan, The Watsons, Sandition and the Complete Juvenilia (Ro (Large Print / Hardcover)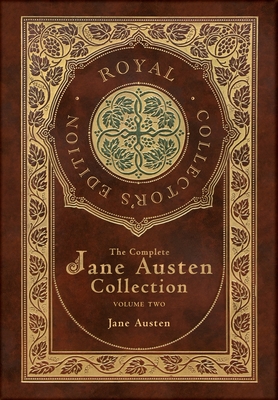 $71.94
Email or call for price.
Description
---
The Complete Works of Jane Austen includes all six novels, and Austen's shorter works. Volume One includes Sense and Sensibility, Pride and prejudice, and Mansfield Park. Volume Two includes Austen's novels Emma, Northanger Abbey, and Persuasion as well as her shorter works, Lady Susan, The Watsons, Sandition, and the complete Juvenilia.
Emma: Emma Woodhouse is a strong, independent woman, who is perfectly happy to remain single. When Emma takes on a fancy to matchmaking, she begins to interfere into the love lives of those around her. However, her eagerness to match people together, sparks unintended results that send shock waves throughout the countryside.
Northanger Abbey: At the tender age of fifteen, Catherine Morland has yet to find a young man to be her prince in disguise. When she visits Northanger Abbey, she is expecting to find hidden passageways, dark secrets, and adventures worthy of the Gothic novels she holds so dear. With many challenges in her way, romance stands at the ready to right the wrongs of self-interest, deception, and greed.
Persuasion: As the Napoleonic Wars come to an end in 1814, Admirals and Captains of the Royal Navy are put ashore, their work done. Anne Elliot meets her old love, Captain Frederick Wentworth, after seven years, by the chance of his sister and brother-in-law renting her father's estate. The relationship that blossoms symbolises for Anne the possibility of a more outgoing, engaged, and fulfilling life.
Lady Susan: Lady Susan seeks a new husband for herself and one for her daughter. But Lady Susan is a selfish, unscrupulous and scheming woman, highly attractive to men, who tries to trap the best possible husband while maintaining a relationship with a married man. She subverts all the standards of the romantic novel: she has an active role, she is not only beautiful but intelligent and witty, and her suitors are significantly younger than she is.
This case laminate collector's edition includes a Victorian inspired dust-jacket.