Wicked Academia 2: Stormwind of Shadows (Paperback)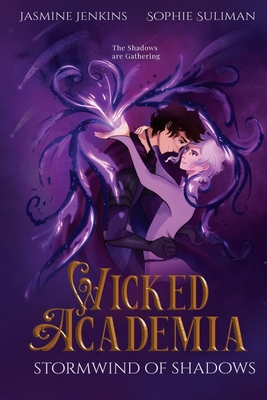 $18.99
Email or call for price.
Description
---
The Greywicks may have survived their first trials, but more dangers await at the Celestial Academy for Fallen Stars. As the triplets attend classes and learn more about the star magic inside of them, they realize that no student or professor can be trusted. Not even the castle walls are safe.
Vivian's condition worsens, but she finds herself drawn to the arms of Prince Darius. But it's not just her secret that may tear them apart, but his: a secret that not only threatens their love, but her life.
Marion struggles to accept her place as a Lost Star, unable to control the magic within. Despite throwing herself into solving the mysteries around the castle, Marion's destiny is determined to claim her... whether she is willing or not. She could find help from the enigmatic Khalid Ali Bagheeri, but only if she can learn to trust him.
And Timoth e, now a Dark Star, finds himself feared and hated by the rest of his classmates. Desperate to escape the same fate that befell his brother, Timoth e seeks solace in his cold and unforgiving roommate, Valentine Sun. Timoth e must discover if heroes can be heartless and if villains can save the world.
All the while, a new terror emerges, threatening to tear down the very foundation of which the Celestial Church is built...
One of the Greywicks will become a monster. The other, a queen. The last, a god.
Anything is possible at the Celestial Academy for Fallen Stars.
Wicked Academia: Lost Stars is a new adult fantasy romance perfect for fans of A Court of Silver Flames, Blood and Ash, and Zodiac Academy. It has magic, adventure, swoon-worthy romance, and lots of steam If you've graduated from Hogwarts, it's time to attend the Celestial Academy for Fallen Stars