The Complete Works of H. P. Lovecraft (Deluxe Library Binding) (Hardcover)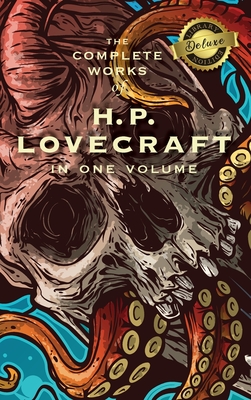 Email or call for price.
In Our Warehouse - Expected arrival in 2-5 days
Description
---
This complete collection of strange and unusual stories from H. P. Lovecraft features an array of dark and supernatural themes. Forbidden, esoterically veiled knowledge is at the forefront of many of Lovecraft's works, as well as non-human influences on humanity, inherited guilt, fate, civilization under threat, race, risks of a scientific era, religion, and superstition.
Many of Lovecraft's stories were inspired by his nightmares. His interest in the supernatural started during his childhood days when his grandfather would tell him Gothic horror stories. In 1913, he wrote a critical letter to a pulp magazine that ultimately led to his involvement in pulp fiction. During the interwar period, he wrote and published stories that focused on his interpretation of humanity's place in the universe. In his view, humanity was an unimportant part of an uncaring cosmos that could be swept away at any moment. These stories also included fantastic elements that represented the perceived fragility of anthropocentrism.