Nuptse and Lhotse Go to Iceland (Paperback)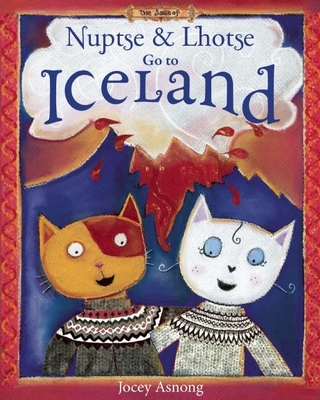 Email or call for price.
Not Available at This Time
Description
---
Nuptse and Lhotse are back for their third mountain expedition After traveling to the mountains of Nepal and the peaks of the Canadian Rockies, these two adventurous cats head into the land of fire and ice: ICELAND While digging in their garden, Nuptse and Lhotse uncover an ancient Viking helmet. Excited by their discovery, the two cats make their way to Iceland to find out more about the Vikings. Throughout their epic journey, the cats learn all sorts of new things related to Iceland: longboats, sweaters, horses, volcanoes, geysers, and local cuisine Nuptse and Lhotse Go to Iceland is a colorful, illustrated story for adventurers of all ages who long to travel to far away places.
About the Author
---
Jocey Asnong was raised by a pack of wild pencil crayons in a house made out of paper and stories. After finishing several years of illustration school at Sheridan College, she left the land of maple trees in Ontario and moved to the mountains of Alberta so that she could wear mittens most of the year. When she is not chasing her cats around her art cave in Canmore, she might be caught in a blizzard near Mount Everest, or running away from wolf dogs in Mongolia, or peeking out castle windows in Scotland, or sleeping under the stars in Bolivia. Jocey's illustrations can be found in all kinds of unusual places, as well as in the picture books Mushkid, The Princess and the Cheese and Nuptse and Lhotse in Nepal (winner of a Purple Dragonfly Award). Find Jocey and her illustrations at cautiousleroy.com and follow Nuptse and Lhotse and their adventures on Facebook. She lives in Canmore, Alberta, Canada.