Hot on the Trail in Ancient Egypt (The Time Travel Guides) (Paperback)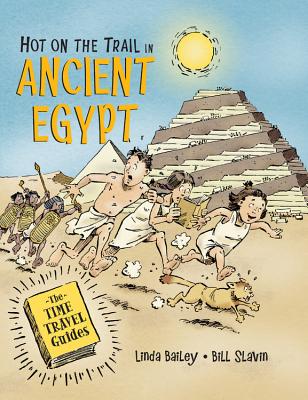 $11.99
Email or call for price.
Other Books in Series
Description
---
All twins Josh and Emma want to do is get out of the creepy Good Times Travel Agency where their little sister, Libby, has led them. But the peculiar shop owner encourages them to open one of his guidebooks first --- and they suddenly find themselves transported to ancient Egypt! They've barely had time to figure out where they are before Josh is carried away to help build a pyramid for the king. Emma and Libby search everywhere for their brother --- including a crowded market, a banquet and a temple --- until, at last, they're reunited. But after an unlucky encounter with the king's guards, they're accused of being tomb robbers! Will the children manage to finish reading the entire guidebook --- their only way back home --- before they are arrested?

In this re-issue from an award-winning and critically acclaimed series of graphic novels, Linda Bailey has crafted a hilarious adventure story that doubles as a thoroughly researched historical overview of ancient Egypt. The unique perspective of modern children experiencing and interacting with people and events from the past brings history to life, while the factual information, presented as pages from the guidebook, fleshes the story out. Many important themes of ancient Egyptian culture and life are touched on: politics and government, philosophy, women's roles, activities of daily life and celebrations. Bill Slavin's engaging and detailed illustrations are full of physical comedy and fun. There's also a bibliography and three pages of further background about ancient Egypt.
About the Author
---
Linda Bailey is an award-winning author of many books for children, including Goodnight Sweet Pig, Stanley's Party, the Stevie Diamond Mysteries, and the Good Times Travel Agency series. She lives in Vancouver, British Columbia.
Bill Slavin is an award-winning children's book illustrator with over 50 books to his credit. His works include Stanley's Party and The Bear on the Bed He lives in Millbrook, Ontario.
Praise For…
---
Lighthearted and simply presented, this offering covers more than just the standard mummies and pyramids.—School Library Journal

... this book will likely be popular with reluctant and advanced readers alike.—Quebec Library Association

... a wonderful supplement to a unit on ancient Egypt.—School Library Connection

This book has something for everyone. It is a graphic novel, a comic book, and a research tool about ancient Egypt.—Resource Links

... a thoroughly enjoyable read ...—CM Magazine