Captain Monty Takes the Plunge (Hardcover)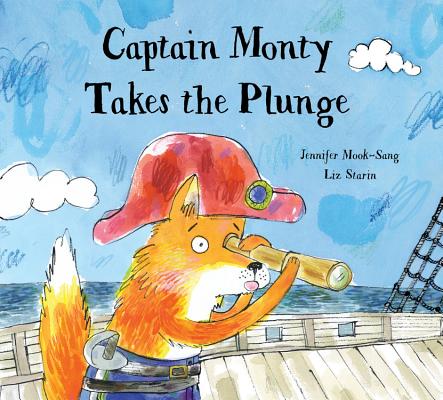 $16.99
Email or call for price.
Description
---
Monty the Malodorous is a daring pirate. He is brave. He is bold. He is feared by all who sail the six or seven seas. But Monty has a secret: he can't swim. He never goes into the ocean --- and he never takes a bath. "Real pirates don't bathe. Yar-har-har!" he says. But things change when he meets a mermaid named Meg. "Monty's heart went ka-thunk. He tumbled head over boot heels in love." And, one day, when Meg's life is put into peril, Monty realizes he's the only one who can jump into the ocean to save her. Monty is faced with a terrible dilemma: is his love strong enough to overcome his fear? This is engaging, heartwarming and funny picture book tale is told with originality by Jennifer Mook-Sang. Children will love Monty the pirate (who's actually a dog!), and readers with their own fears of learning to swim will relate to his difficulties. Young children will also be delighted by the idea of not having to take a bath! The childlike style of Liz Starin's illustrations add a freshness to the story, as does the non-conformist mermaid she's created --- perfect for her character. Meg is a voracious reader who knows all the best fishing spots and teaches Monty how to set course by the constellations. This playful book is an excellent choice for story time, reinforcing themes of self-discovery and personal development, as well as character education lessons on courage.
About the Author
---
Jennifer Mook-sang grew up in Guyana and moved to Canada when she was fourteen. She lived an ordinary life searching for treasure until her first novel, Speechless, was published in 2015. Jennifer lives in Burlington, Ontario.
Liz Starin is an illustrator, writer, programmer and former swim instructor. She has swum in mountain streams, in a lake that used to be a coal mine and in the Atlantic on New Year's Day. She lives with her partner in Brooklyn, New York, just a short bike ride from the ocean.
Praise For…
---
Above-parrrrrr imaginings.—Kirkus Reviews

Make room on your shelves for a book that works just as well for storytime as it does for one-on-one readings.—School Library Journal