The American in Canada, Revised: Real-Life Tax and Financial Insights Into Moving to and Living in Canada -- Updated and Revised Second Edition (Paperback)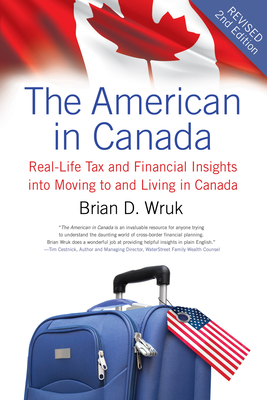 $24.95
Email or call for price.
Description
---
A revised an updated edition that factors in the latest 2013 changes to tax law -- the definitive financial guide for Americans planning a move to Canada Hundreds of thousands of Americans are living in Canada today -- and the tax issues for everyone from green card holders living in Canada to Canadians returning home from years in the U.S. are astounding and complex. In easy-to-understand language, The American in Canada focuses on the eight key areas of transition planning: immigration, customs, cash management, income tax, retirement, estate planning, risk management, and investments. Do you have to file tax returns with the IRS? What income do you have to declare, and in which country? Should you leave your IRAs and 401(k)s in the U.S.? What immigration avenues are available to help you move into Canada? Do you qualify for Canada's socialized healthcare programs? What should you do with your home or rental property in the U.S.? These questions, and many more, are answered in this essential guide for the American living in Canada.
About the Author
---
Brian D. Wruk, MBA, CFP(US), CFP(Canada), TEP, CIM, was born and raised in Edmonton, Alberta, but moved between Canada and the U.S. on several occasions. Now a dual Canada-U.S. citizen residing in Arizona, Brian and his firm specialize in helping American citizens or green card holders living in or making the transition to Canada.