Ruby Right: Little stories, big lessons (Animal Adventures) (Paperback)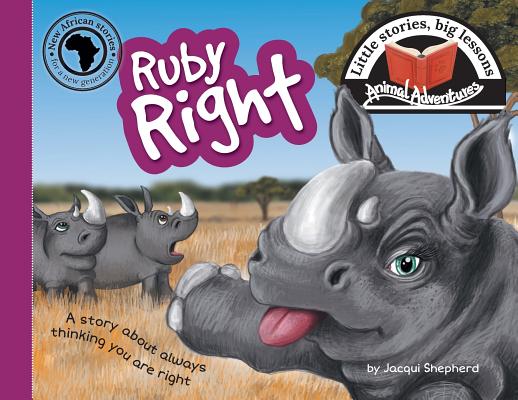 $15.59
Email or call for price.
Description
---
A BOOK FOR BOYS AND GIRLS
Ruby Right is a colourful picture book with an entertaining story about Ruby the rhino who thinks she is always right. It shows that being polite and listening to the opinions of others is more important than always being right. Join Ruby in this African bush adventure and find out if always being right made her happy.
A great gift for any child
Ruby Right is one of the ten books in the exciting Animal Adventures series by popular children's author Jacqui Shepherd. Each book features a different animal character and highlights an important life lesson through the story. The charming, full-colour illustrations by Dana Espag and Tanja Dunstan bring the stories to life. The simple and accessible language makes these books suitable for both first- and second-language learners. They are perfect for reading to little ones and for older children to read by themselves.
The 10 titles in the series are:
Eddie gets a fright
The rabbit and the fox
Jojo's journey
Wally gets a tummy ache
The proud old owl
The little grey horse who loved to run
The monkey who wanted to be different
Pinky breaks the rules
Ruby right
The unkind buffalo.
Read them all By relating to the delightful animal characters featured in these stories children will not only be entertained but also be encouraged to adopt values and attitudes that will help them in their daily lives.
Other series by Jacqui Shepherd include:
Bug stories
Sea stories
Farm-tastic.
Follow our Awareness Publishing Facebook page for the latest news and updates on this and other series.