Pokémon Scarlet and Violet Strategy Guide Book (Full Color): 100% Unofficial - 100% Helpful Walkthrough (Paperback)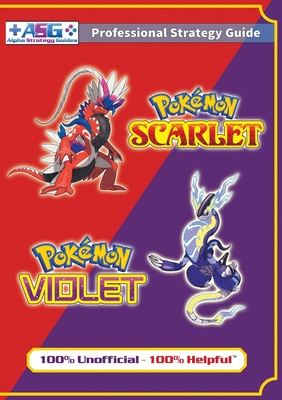 $26.24
Email or call for price.
Description
---
Embark on a magical journey through the world of Pok mon as you explore the massive open world of Paldea, battling and catching loads of brand new Pok mon, each with their own unique abilities, strengths, and weaknesses.
You can now also join forces with friends online to participate in relaxing picnics and epic battles, while teaming up together to defeat the Gym Leaders, Crew Leaders, and special Titan Pok mon that stand in your way.
With the freedom to tackle challenges in any order you choose, you'll need our expert guide to help you navigate Paldea and uncover its hidden secrets as you battle your way to become the ultimate Pok mon master.
Inside our helpful guide you'll find:
✔ Tips and tricks on how to catch or defeat your opponents while battling
✔ An easy-to-use quick-reference Type Damage chart for you to refer back to before a battle,
✔ We cover what Tera Type Pok mon are, how it works, and when it's best to Terastallize your own Pok mon in battle,
✔ What picnics are, where to do them, and how to use them to give you (and your friend's) Pok mon a handy stat boost
✔ A complete list of Meal Powers (and what they do),
✔ A comprehensive list of beginner tips and tricks to help you master the game even quicker
✔ The complete list of school class test answers.
✔ How to prepare for - and then beat - every Pok mon Gym Leader,
✔ How to take on the Elite 4 (and the current Champion) to become the No. 1 Pok mon Trainer in Paldea
✔ How to take down all of the Crew bullies and beat them at their own game
✔ We show you how to battle the Titan Pok mon with ease.
✔ How to enter the elusive crater in the middle of the island...
✔ Top strats for capturing the well-hidden, "Ruined Four" Pok mon, hidden around the world
✔ Complete data tables on the hundreds of different items you can collect along the way
Alpha Strategy Guides offers the most professional Scarlet/Violet strategy guide book anywhere. Pick it up and become the ultimate Pok mon master