The Twin Paradox (Paperback)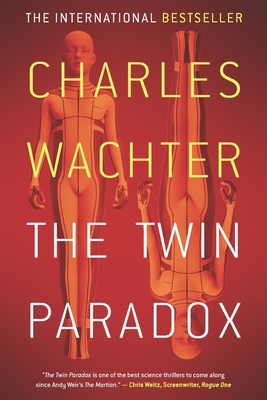 $16.99

In Our Warehouse - Expected arrival in 2-5 days
Description
---
THE INTERNATIONAL BESTSELLER
Weske Morris, New York Times says, "This is skillfully structured, suspenseful, handsomely descriptive, mysterious science-fiction. It moves fast and brims with humor and wonder..."
With ten years passing for every three minutes on a remote stretch of Texas coast, planes fall out of the sky, evolved species are on the hunt, and people die inside one of the most vicious ecosystems ever grown-all a result of the government's efforts to slow down time. A lot can happen in ten years. That's the point. Governments are always racing for supremacy, for scientific breakthroughs, for technological advantages-and these things take time. Until something goes wrong. With the grounded yet massive world building of
READY PLAYER ONE
, thrilling scientific questions of
JURASSIC PARK
, and the time-bending teen drama of
BEFORE I FALL
, Wachter's
THE TWIN PARADOX
is a brilliantly plotted tale that is both intimate and massive, relentless yet deliberate, and explores the themes of self-acceptance, self-confidence, and natural selection in a richly hued and unforgettable world. Ultimately the eternal question of Nature versus Nurture is boiled down into this fast-paced thriller told over the course of five days and culminates in one single question:
Do we get to choose who we are?Readers can't get enough of Twin Paradox
"The Twin Paradox is one of the best science thrillers to come along since Andy Weir's The Martian." Chris Weitz, Screenwriter, Rogue One
⭐⭐⭐⭐⭐ It feels like a Crichton book on hyperdrive. It also feels like it should be the basis for the next major game release from bungie or something. This is a
highly crafted adventure
, written by someone who clearly understands broad, sweeping stories. Five stars for sure. If there were a sixth to give, I'd give it just for the concept of "accelerator." - Casey,
Goodreads Reviewer
⭐⭐⭐⭐⭐ Wachter upped the ante by transporting the children to a facility in Texas that is the perfect definition of science running amok...For me, this was
one of the top books
I have read this year, and I am so glad it was introduced to me. Five stars. - Dee,
Goodreads Reviewer
⭐⭐⭐⭐⭐ An insanely fast-paced, edge of your seat, sci-fi thriller. It has a little bit of everything - time shifting, quantum physics,
human cloning
, secret governmental experiments,
biological warfare
, mutated animals, Russian espionage, and a sprinkling of magic... Wachter does an amazing job painting a vivid picture, fueled with twists and turns (and time hops) at every corner. - Jennifer,
Goodreads Reviewer
⭐⭐⭐⭐⭐ This book is
simply amazing
. It is a wild ride through time, physics, and friendships. You simply have no idea where this book will go next, though at no point are you ever disappointed. And while I wished I could have read it faster, there were times when my eyes simply lost focus and I had to sleep. I can not wait to see what comes next - Louise,
Goodreads Reviewer
⭐⭐⭐⭐⭐ The book describes
time travel like a spiral
. That's how it felt reading the story. Starting at the top, instantly pulling me in, increasing the action as I got further into the book, and ending the spiral with an interesting conclusion. - Anna,
Goodreads Reviewer
⭐⭐⭐⭐⭐ I absolutely
devoured this novel
, and I really enjoyed it. I found the plot line intriguing, and the characters to be both interesting and multifaceted. I am looking forward to the second book in the series - Rachel,
Goodreads Reviewer
⭐⭐⭐⭐⭐ I loved this book. The premise is so unique. I loved the
world building
. The characters were fun and flawed in the best kind of way. The action is fast paced and frenetic.