The Interactive Constitution: Explore the Constitution with Flaps, Wheels, Color-Changing Words, and More! (Interactive Explorer #1) (Hardcover)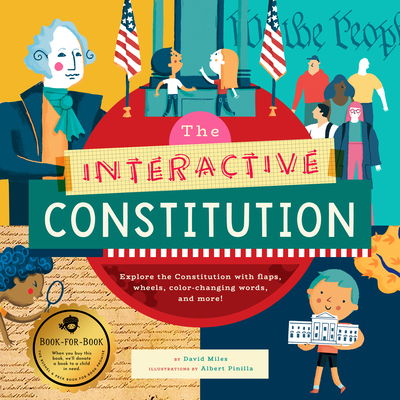 $24.99
Email or call for price.
Description
---
Discover our democracy's central document is this fun and interactive book with flaps, wheels, color-changing words, and more
A 2021 Notable Social Studies Trade Book (NCSS-CBC)
Finalist, IBPA Benjamin Franklin Awards: The Bill Fisher Award for Best First Book
Explore the U.S. Constitution like never before Amazing interactive features like color-changing words, flaps, wheels, and a special vocabulary decoder help kids learn about types of government, checks and balances, the Bill of Rights, the amendment process, and more There's never been a better way--or a more important time--to discover the world-changing importance of this powerful founding document.
"In cheery infographic-style illustrations and chatty but succinct prose, Miles and Pinilla have boiled down the basics of the U.S. Constitution without shortchanging history or legal tradition....Both history geeks and casual students should easily ratify this one."--Publishers Weekly
From the Book:
The Constitution is a special document that was written in 1787. It explains how the United States governement should be set up. It also explains the purpose of that government and how it should protect the freedoms of the people. The Constitution is one of the most important documents ever written in the history of the world.