Hiro's Hats (Hardcover)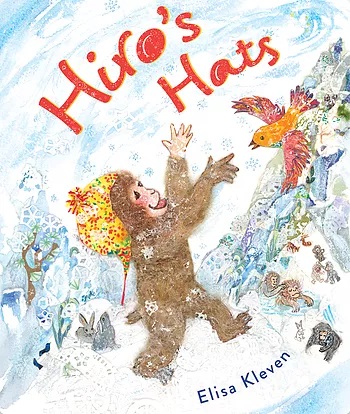 Description
---
High in the mountains of Japan, a snow monkey named Hiro finds a cheerful hat.
"Snow monkeys don't need hats!" his brother tells him.
But Hiro's hat does more than keep him warm – it is also a friend.
Only a robin understands. And when Hiro's hat disappears, she surprises him, in time, with two more hats, each as playful and full of life as his first.
With intricate collage artwork and lyrical prose, Elisa Kleven tells a story as cozy as a warm hat on a cold winter day, and as fresh as spring.

About the Author
---
Elisa Kleven is the author and/or illustrator of over 30 children's picture books, among them Glasswings: A Butterfly's Story, The Puddle Pail, The Paper Princess, The Lion and the Little Red Bird, Sun Bread, as well as Abuela, by Arthur Dorros, De Colores, by Jose Luis Orozco, and The Weaver, by Thacher Hurd. Her books have received awards and honors from the American Library Association, The New York Times, The Junior Library Guild, School Library Journal, and the American Institute of Graphic Arts. Original art from Hiro's Hats is part of an exhibition at the Eric Carle Museum "Now and Then: Contemporary Artists and Their Childhood Art." Elisa lives the SF bay area with her family and pets.
Praise For…
---
"Gently whimsical…Mixed-media collage illustrations show sweet-faced monkeys at play in richly textural landscapes. Through Hiro, Kleven sympathetically illustrates young children's ability to find emotional connections to inanimate objects, and the creative ways they can respond to stress." — Publishers Weekly

"Kleven's joyous art is instantly recognizable to her readers. Her colorful palette and use of movement and fantastical detail make her stories page turning reads…A lovely addition to elementary library shelves." — School Library Journal

"Outstanding. The slightly surreal tale of a monkey, a hat, and a robin through different seasons is bolstered by delicately beautiful collage art in colors that evoke harsh, snowy winters and lush, blooming springs. A page of back matter is dedicated to fun facts about snow monkeys. The lyrical prose makes for an engaging storytime or bedtime option." — Association of Children's Librarians

"Hiro's Hats is a complete gem! There's so much beauty, action, and contemplation, too. The way the characters interact with each other feels real and extremely touching. I want to pick up Hiro and cuddle him." — Elissa Haden Guest, Author of the Iris and Walter Series, and Teacher of Writing for Children