How to Be a Super Kid: Six scoops to earning your super kid status (Paperback)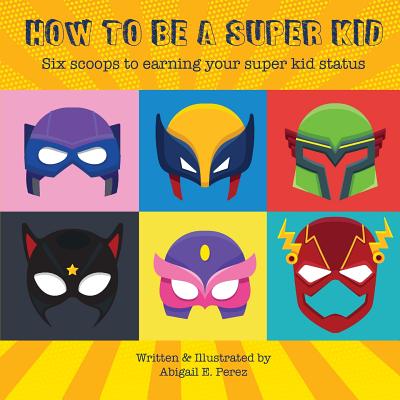 $12.95

In Our Warehouse - Expected arrival in 2-5 days
Description
---
"There is no such thing as an unimportant superhero with a useless superpower. Everyone has a superpower. When you find yours, use it to change the world one person at a time."
-Abigail Perez (age 9)
How to Be a Super Kid is a fun and inspiring book that offers tangible, kid-friendly ways to help kids (and adults) to develop grit, a positive growth mindset, and healthy habits. Using her ability to connect deeply with others, this beautifully kid illustrated book is filled with bright colors and represents a refreshing diversity of children from all walks of life including different nationalities and disabilities.
This book is written by a kid for any kid who has ever dreamed of becoming a superhero and being the best person they were created to be. From super kid routines to overcoming fear, Abigail believes every kid can positively impact their life and inspire others by using their gifts and talents and making small changes to their mindset and daily routines. This book offers fun and simple steps using "ice cream scoops" as a way to lay out key life-long principles that lead to healthy habits that carry on into adulthood. These are the same principles she uses to guide her own life and wants to share with others:
The principles of this book include:
1. The importance of establishing a morning routine
2. Discovering and developing innate super kid powers/talents
3. Anti-bullying
4. Learning to see the world through the right perspective
5. Being the best you can be but not comparing with others
6. Risk taking and the opportunity to learn from failure
7. Taking care of your mind, body and soul
8. Creating stretch goals
9. Overcoming challenges is the path to breakthroughs
10. Investing in others
11. Spreading joy
12. Giving back
Abigail believes every kid has superpowers that they can use to change the world if they discover it and nurture it in a healthy way. Her goal is to get this book into the hands of as many children as possible. She is committed to donating a portion of her book's proceeds to non-profit organizations that support the How to Be a Super Kid mission, so that every kid, including under privileged kids, will be encouraged to step up to be the super kid they were created to be.
This book serves as the invitation for everyone to join the super kid movement and to be a part of the community of supers at www.howtobeasuperkid.com. Please visit our online community for updated resources that will support and encourage others to discover and develop their innate super kid talents to make this world and future a better and brighter place to live.