The Wakeful Wanderer's Guide: to New New England & Beyond (Paperback)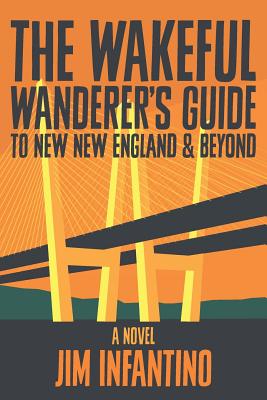 $14.95
Email or call for price.
Description
---
"Like Marge Piercy and Margaret Atwood, Jim shows us an exciting and absorbing future world that is neither zombie-land nor un-relatable utopia. I'm a busy person, but I could not put his book down." - Dar Williams, Author & Songwriter
"I'm only halfway through this novel, and it's already changing the way I see the world. I have loved Jim Infantino's music for a long time. Now I get to enjoy the interiority of his imagination." - David Wilcox, Songwriter
"Jim's debut novel is as funny, thoughtful, surprising and well crafted as the songs I've been enjoying for 18 years. Its focus on community life and social interaction reminded me of the great Kim Stanley Robinson, especially the Three Californias trilogy. The examination of social structures and the tension between dystopian and utopian models brought to mind Iain M Banks' politically charged Culture novels. Particularly impressive is his exploration of the interface between humanity and technology - it is timely, but nonetheless original enough to stand out in a field currently obsessed with the issue, and that's no mean feat." - Scott K. Andrews, Author
---
A captivating picture of a climate-changed future viewed from two starkly different cultural perspectives, The Wakeful Wanderer's Guide to New New England & Beyond follows the paths of a runaway aristocrat, a Luddite tyrant, a spy seeking retribution, and a wandering historian unicycling north along the crumbling Boston Post Road.
Marto Boxter is an optimistic journalist with a head full of implants. When we meet him, he is planning a ride into the interconnected tribes of the Northeast from his town of Reverside-on-Hudson. He plans to document his ride by posting his thoughts in real-time to his post-human followers. Before he can leave on his tour however, a runaway named Helen arrives with secret information that throws Marto's placid world into turmoil.
Meanwhile, Barnabas Yoniver IV, the leader of a Luddite town to the south launches a plot to disrupt the life of all upgraded humans and bring them back to the traditional economy of markets and governments. Aware of Yoniver's plans, rival Luddite families scheme to prevent Barnabas from grabbing too much power for himself.
This darkly humorous reflection of our changing world is an exploration of what it means to be human as our relationships with technology become increasingly intimate.