Rewilding: Bringing Wildlife Back Where It Belongs (Hardcover)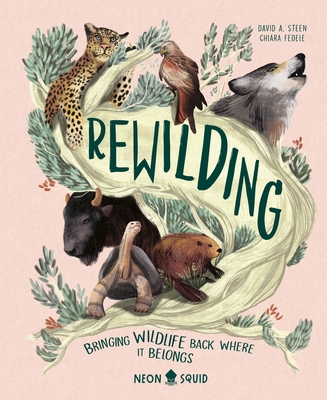 Description
---
⭐ Selected as one of the Best Nature Books of 2022 by Kirkus Reviews ⭐
⭐ Selected as one of the Best Informational Books of 2022 for Older Readers by Chicago Public Library ⭐

"A book worth returning to multiple times. A fascinating primer on the intricacies of ecosystems." -- Kirkus, starred review

Discover inspiring stories of wildlife brought back from the brink of extinction – a perfect gift for kids who care about the environment!

Rewilding means returning animals or plants to places where they used to live. In this book, acclaimed conservation biologist and science communicator David A. Steen introduces children to the scientists determined to turn back the hands of time to create a greener future. Read about awe-inspiring rewilding projects, including:

• The wolves that returned to Yellowstone National Park and dramatically improved the ecosystem
• The beavers reintroduced to their old territories to build dams to stop them flooding
• The Galápagos giant tortoises who beat the odds to survive extinction and return to their island home

Throughout the heartwarming true stories, beautifully illustrated by award-winning artist Chiara Fedele, children will learn how different species evolved to live side by side and will see what it takes to be a conservation scientist. They might even be inspired to become a wildlife activist themselves!

By the end of the book kids will be left with a key message: it's not too late to fix the planet.
About the Author
---
David A. Steen, author of Rewilding, is a wildlife scientist and conservation biologist. He's also a science communicator—Slate Magazine described him as "The best biologist on Twitter" —and is also the author of The Secret of Snakes. Steen founded The Alongside Wildlife Foundation, which suggests better ways humans can live alongside animals.

Chiara Fedele is a multi-award-winning illustrator from Milan, who has won the prestigious Italian Children's Literature Prize. She has a degree in illustration from La Scuola del Fumetto and uses a combination of traditional styles and digital work. Fedele works for publishers all around the world, and also provides illustrated storyboards for advertising companies and filmmakers. Her work includes Jason G. Duesing's The Moon Speaks and Audre Ades's The Rabbi and the Reverend.

Neon Squid creates beautiful nonfiction books for inquisitive kids (and kids at heart). We believe the most amazing stories are real ones, so our books are for children who want to decipher ancient scrolls, orbit distant stars, and dive into the deepest oceans. Our books are a labor of love—written by experts, illustrated by the best artists around, and produced using the finest materials, including sustainably sourced paper. We hope that by reading them kids are encouraged to further explore the world around them.
Praise For…
---
"A book worth returning to multiple times. A fascinating primer on the intricacies of ecosystems." -- Kirkus, starred review

"This informative, colourful hardback takes a detailed look inside the rewilding process, giving a whistle-stop tour of reintroduction projects around the globe and telling inspiring stories of wildlife brought back from the brink." -- BBC Wildlife

"This comprehensive overview gives a brief introduction to the topic before focusing on a wide range of rewilding projects, from working with condors in California to beavers in England to Kihansi spray toads in Tanzania... well designed and thought-provoking." -- Booklist

"For seven- or eight-and-up, a down-to-earth guide with a clear and hopeful message: humans have damaged the natural world, but with care, time and resources, we can make amends." -- Children's Book of the Month, The Guardian

"A fascinating exploration of ecological restoration, perfectly pitched for children." -- JUNO Magazine

"This book is an excellent addition to any classroom or library and would be a fantastic supplement to science curriculum or further reading." -- Children's Literature