Animal Sidekicks: Amazing Stories of Symbiosis in Animals and Plants (Hardcover)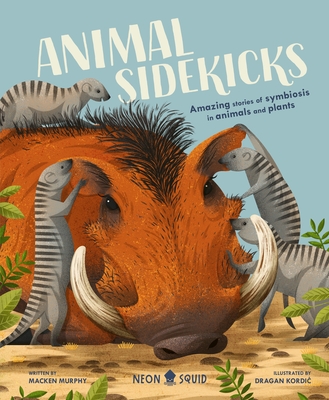 $19.99

In Our Warehouse - Expected arrival in 2-5 days
Description
---
An NSTA Outstanding Science Trade Book for Students

"Excellently illustrated and providing a treasure trove of interesting information about symbiotic relationships." --Booklist

Heard about the fish that clean shark teeth? Or the frog that lives with a tarantula? Welcome to the weird world of symbiosis—where animals form incredible relationships.

Macken Murphy, host of the popular animal podcast Species, introduces his favourite symbiotic relationships in his first kids' nonfiction book, Animal Sidekicks. Along the way he explains the cool science behind the baffling behaviour of some animals—from friendly alliances to pesky parasites. Alongside him, illustrator Dragan Kordic skillfully brings to life head-scratching relationships in nature, including:

• The crab that wears a sea urchin as a hat
• The bat that goes to bed inside a plant
• The warthog that likes a mongoose massage

You'll even find out about symbiotic relationships including YOU! (Hint—is your head ever itchy?) By the end of the book you won't look at nature in the same way again!
About the Author
---
Macken Murphy is a writer and science educator. He hosts a weekly podcast about animals, Species, recommended by both Apple and BBC's Wildlife magazine. He is currently studying anthropology at the University of Oxford.

Dragan Kordic is an illustrator who lives in Rijeka, Croatia. He loves spending time with his wife, daughter, and friends—real and imaginary—his parrot August, and two dogs. His kids' books include Wild Goose Chase.

Neon Squid creates beautiful nonfiction books for inquisitive kids (and kids at heart). We believe the most amazing stories are real ones, so our books are for children who want to decipher ancient scrolls, orbit distant stars, and dive into the deepest oceans. Our books are a labor of love—written by experts, illustrated by the best artists around, and produced using the finest materials, including sustainably sourced paper. We hope that by reading them kids are encouraged to further explore the world around them.
Praise For…
---
An NSTA Outstanding Science Trade Book for Students

"Animal lovers will be sure to find amazing new facts on every page. . . This is an excellent addition to children's nonfiction collections." -- Booklist

"A rollicking ride through the wonderful world of animal symbiosis. In this remarkable book, Macken Murphy brings us a science lesson wrapped up in lots of fun." -- Children's Book of the Week, Press Association

"A beautifully, brightly illustrated book about symbiosis... presents a nice mix of the scientifically interesting and the downright disgusting that should help to keep children engaged for a decent amount of time — for example, we particularly enjoyed reading about head lice (after having had first-hand experience of them recently), vampire finches feasting on Nazca boobies and woolly bats pooing in pitcher plants." -- Nature