Second Grade Subtraction (Highlights Learning Fun Workbooks) (Paperback)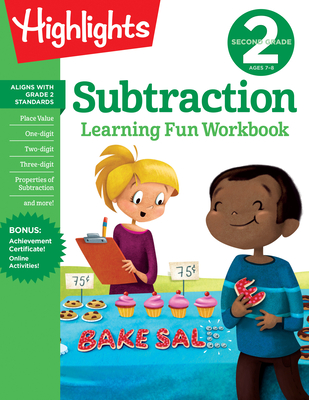 Description
---
Mastering second grade subtraction skills is fun and exciting with this book that combines problem solving activities with puzzles and humor to reduce learning anxiety and build essential skills.

Understanding subtraction is an important building block for future learning, and Highlights(TM) infuses Fun with a Purpose® into this essential math activity for second graders. Our award-winning content blends math with puzzles and humor, which makes learning subtraction enjoyable while reducing math anxiety. With second grade subtraction strategies like regrouping and borrowing, this book will help students grasp basic math concepts and build their confidence in the classroom.
About the Author
---
Highlights Learning was developed with education experts to help pave the way for school success by pairing our unique brain-building puzzles and humor with curriculum practice to make learning fun. These award-winning products take the Highlights kid-approved approach and organize it into a progressive framework, aligned with school standards and supported by teachers. Highlights Learning workbooks and learning materials span a variety of print formats, including workbooks, practice pads, write-on wipe-off activity books, and board books.