Smithsonian Kids All-Star Readers: Outer Space Level 1 (Paperback)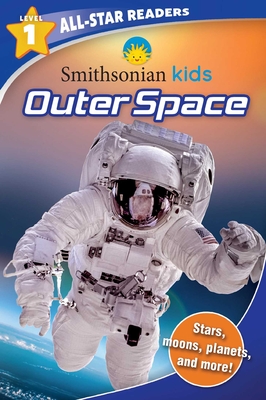 Description
---
Early readers can blast off into outer space with the Smithsonian in this leveled reader that supports STEM learning and introduces the planets, stars, galaxies, space exploration, and more.

Developed in collaboration with the Smithsonian and esteemed literacy expert Dr. Adria Klein, Smithsonian Kids All-Star Readers: Outer Space Level 1 includes a carefully designed leveling structure for early readers. Covering STEM-oriented topics such as comets, asteroids, moons, and more, the concepts in this reader are reinforced by photos and include vocabulary familiar to kindergarteners and first-graders. After reading this introduction to nonfiction, children can use the included quiz and glossary to reinforce their reading comprehension.
About the Author
---
Ruth Strother is an award-winning writer and editor whose work has touched children around the globe. From running editorial departments at publishing houses to freelance writing and editing, Ruth has immersed herself in the creation of books for both children and adults. Her latest written works for children include W is for Woof: A Dog Alphabet and the NSTA/CBC Outstanding Science Trade Book for Children B is for Blue Planet: an Earth Science Alphabet. Ruth lives in Southern California with her husband, daughter, and two dogs.