Star Trek: Year Five - Experienced in Loss (Book 4) (Paperback)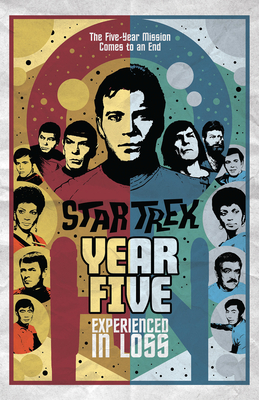 $19.99
Email or call for price.
Description
---
The five-year mission reaches its epic conclusion, where Kirk and the Enterprise crew will have their bonds tested, secrets revealed, and futures cast into doubt!

First, Kirk meets his romantic match in fellow Starfleet captain Laura Rhone. But will she be the one, or the one that got away?

Then, while investigating a mysterious structure on his home planet, Spock vanishes! Can Kirk, Bones, and company find where—or when—their friend has gone? And what does Spock's entanglement in Vulcan's past mean for its future?

Finally, the showdown that's been building for the last year is here! Gary Seven and the shadowy AEGIS organization's scheme has stretched from the grand Tholian Assembly to the pestilential Harry Mudd. Now their ultimate plan comes to fruition, and only the crew of the U.S.S. Enterprise can hope to stop it! When the smoke clears, what will be left for our heroes?

For now, this is the final voyage of the starship Enterprise. This volume collects issues #20-25 of the series, as well as the Valentine's Day special, from writers Jackson Lanzing, Collin Kelly, Brandon Easton, Jim McCann, and Paul Cornell, and artists Angel Hernandez, Sylvia Califano, Stephen Thompson, and Christopher Jones.
About the Author
---
Brandon M. Easton is a professional writer, screenwriter, and educator based in Los Angeles, CA. Born and raised in Baltimore, MD, Easton is a graduate of Ithaca College where he earned a B.A. in Sociology, Boston University where he earned an M.F.A in Screenwriting, and Lehman College where he earned a Masters of Education in History. After teaching U.S. History and Economics in the Bronx and Harlem, New York for six years, he decided to go for his screenwriting dreams in Hollywood and scored a gig on Warner Bros. new ThunderCats TV series and Hasbro's new show Transformers: Rescue Bots.