Buffy the Vampire Slayer: A Picture Book (Pop Classics #5) (Hardcover)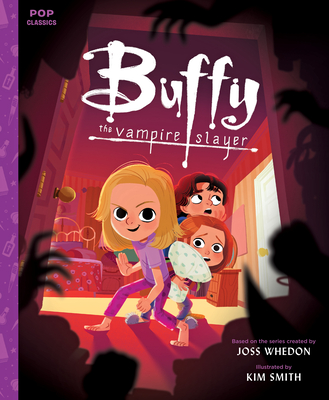 $18.99
Email or call for price.
Other Books in Series
This is book number 5 in the Pop Classics series.
Description
---
The cult classic TV show is now a charming picture book for the youngest fans in the Buffyverse!

In this new picture-book story brought to life with cute and colorful illustrations, young readers see what the world's strongest vampire slayer was like back when she was a kid! Join not-so-brave little Buffy, Willow, and Xander as they investigate strange sounds coming from the closet, seek advice from their school librarian Giles, and encounter everyone's favorite Buffyverse monsters. Charmingly illustrated by Pop Classics artist Kim Smith, this sweet, silly, and not-so-scary book borrows Joss Whedon's beloved characters to tell an endearing bedtime story.
About the Author
---
Kim Smith is the illustrator behind the Quirk Books Pop Classics series, including Home Alone, Home Alone 2, The X-Files: Earth Children Are Weird, E.T. the Extra-Terrestrial, Back to the Future, Buffy the Vampire Slayer, The Karate Kid, and Doctor Who: The Runaway TARDIS. She has illustrated several other children's books, including The Great Puppy Invasion (Houghton Mifflin Harcourt, 2017), Builder Brothers: Big Plans (HarperCollins, 2018), and Boxitects (Clarion Books, 2020), her author/illustrator debut. Kim lives in Calgary, Alberta with her dog, Whisky, and husband, Eric. Visit her online at kimillustration.com.
Praise For…
---
"The most adorable version of Joss Whedon's Sunnydale we've ever seen."—Paste Magazine

"Joss Whedon's 'Buffy the Vampire Slayer' jumps off the screen and onto the page in this action-packed picture book. . . . Illustrator Kim Smith's characters are likeable and bright."—Deseret News 

"I was quickly won over by the charm of the writing and the awesome illustrations. Kim Smith's drawings have a distinctive style that imbues life into every single page."—Sweety High

"An uplifting, sugar-sweet peek into the somewhat kinder world of baby Buffy, enriched with the purest magick of all: childhood."—Sci-Fi Bulletin

"A twee, monsterful bedtime story."—Book Riot

"This is a surefire way to get your youngsters into Buffy."—Geeks of Doom

"Sure to inspire future slayers to take on the monsters in their closets."—Kirkus Reviews

"Buffy the Vampire Slayer: A Picture Book is a great story for any child who wants to be empowered to face their fears, or who just wants a fun, not-too-spooky bedtime read!"—Rogues Portal

"Now that many of those who grew up watching 'Buffy' have kids of their own, why not share this treasure with those youngsters?"— Fredericksburg Free-Lance Star

Praise for other books in the Pop Classics series:
"Thanks to the delightful illustrations of Kim Smith, families can bond over the lovable alien and his friendship with Elliot in book form."—Jami Ganz, Entertainment Weekly, on E.T. the Extra-Terrestrial 

"I was quickly won over by the charm of the writing and the awesome illustrations. Kim Smith's drawings have a distinctive style that imbues life into every single page."—Sweety High, on Buffy the Vampire Slayer
 
"A lovely trip down memory lane that you can share with your little ones."—Neatorama, on Back to the Future
 
"Smith's art is excellent. . . . Her illustrations do a terrific job summing up the key moments of the movie, creating a rich picture of what happens in the film in only 40 pages."—Comics Worth Reading, on The Karate Kid
 
"Kids will delight in the spooky-but goofy story and the surprise at the end, and parents will chuckle at this new take on an old favorite."—GeekDad, on The X-Files: Earth Children Are Weird

"Home Alone: The Classic Illustrated Storybook offers all the fun of the original movie in a darling hardcover package whose read-aloud story teaches lessons about responsibility and the importance of family."—Pop Culture Insider, on Home Alone