Escape the Medieval Castle: Use the clues, solve the puzzles, and make your escape! (Escape Room Book, Logic Books for Kids, Adventure Books for Kids) (Paperback)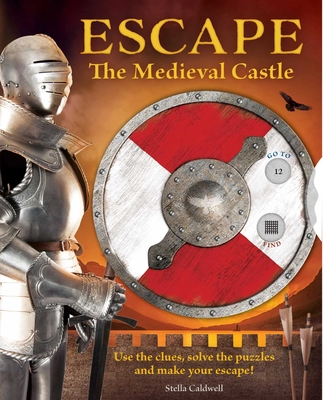 Description
---
Make a thrilling escape from a medieval castle using logic, problem-solving, and critical thinking!

BEWARE! You've been imprisoned in a medieval castle, and may be trapped forever! Can you escape the fortress walls?

It is 1389, and you are locked in a tower of a medieval castle. The door is guarded. The castle bustles with nobles, servants, craftspeople, and entertainers. But it is also a mighty fortress fiercely defended by soldiers. The castle's massive walls protect it from enemy attack, while inside there is a maze of dark passageways.

Stay calm, use your wits, and consult the heraldic wheel on the front cover. If you follow the clues, solve the riddles, and decode the puzzles, you will make your escape!

CHOOSE! Use all the clues to make your choices wisely and escape the castle.

SPIN! Turn the heraldic wheel on the front cover to reveal the next step of your journey.

LEARN! Filled with facts about life in a castle in medieval times. Authenticated by experts.

THRILL! The story is a page-turner, full of suspense and drama.

SCENE SETTER Stunning design with authentic artifacts and evocative backdrops to set an adventurous mood.
About the Author
---
Stella A. Caldwell has written more than 20 books for children covering everything from mythical beasts and legends to the ancient Egyptians, pirates, and medieval knights. She studied English literature at the University of Edinburgh and spent many years working in children's publishing as an editor before writing her first book, a field guide to dragons called Dragonworld.