A Different Lie: A Novel (Paperback)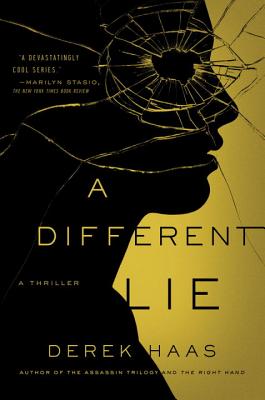 Email or call for price.
In Our Warehouse - Expected arrival in 2-5 days
Description
---
From acclaimed author and screenwriter Derek Haas comes a unique and thrilling twist on a family story—what happens when an elite assassin becomes a father?
Now a new dad, the infamous Silver Bear finds himself staying up late for feedings and changing diapers—all while leading the double life of a contract killer.
The struggle is not with his conscience. He enjoys his gig. But a child forces him to weigh selfishness versus safety. Continue his line of work, and he'll always wonder if he's putting his child's life at risk. His partner, Risina, serves as his fence. Like Columbus, she's good at her job and likes doing it. An unusual take on working motherhood . . .
When the next assignment comes in, both Columbus and Risina are surprised to find that the mark is another assassin: a brash, young killer named Castillo. Castillo is an assassin on the rise. Even Columbus is impressed by his tenacity and talent—and as he closes in on his target, he realizes that Castillo is a younger version of himself. It's almost like looking in a mirror. Castillo has even studied Columbus's work.
But Columbus's assignment is clear: kill the young man.  However, Castillo learns that his hero and unwitting mentor has a family—a revelation with enormous ramifications.
About the Author
---
Derek Haas is the author of the novels The Silver Bear, Columbus, and Dark Men, which make up The Assassin Trilogy, as well as the novel A Different Lie, also featuring Columbus.  Derek co-created "Chicago Fire" and executive produces "Chicago P.D." for NBC.  He also co-wrote the screenplays for 3:10 to Yuma, Wanted, and The Double.  Derek is the creator of PopcornFiction.com and lives in Los Angeles with his family.
Praise For…
---
Haas's absorbing fourth thriller featuring the contract killer known as Columbus (after 2011's Dark Men) tests the proposition expressed in the book that 'lies are popular and truth is the uninvited guest who spoils the party.' The well-constructed conclusion packs a powerful punch.


Columbus' charm and dark humor offer a refreshing break from the sociopathic-assassin mold, and Haas' gutwrenching tale moves at breakneck speed. Pairs nicely with Jeff Lindsay's Dexter series and Shane Kuhn's The Intern's Handbook.


A page turner. A spare thriller fueled by a sinewy plot. Propulsive plotting and compellingly written.

Haas builds characters who are complicated,
memorable, and sharply drawn. His spare, lean prose wastes no words. Haas develops a powerful and compelling voice and spends his scant 200
pages building suspense, creating atmosphere, and telling a compelling yarn.
An unflinching little gem of a story:
violent, dark, and unrelentingly entertaining.

[Haas has] an intense prose style. From the very first lines we are pulled into a forceful emotional storm as Columbus reflects on his life, his calling, and the endless ambiguities of earning a living by ending the lives of others. Perhaps the best news is that Haas leaves Columbus' door wide open, so we can look forward to more adventures.

A devastatingly cool series.

A protagonist is only as strong as his opponent, and Columbus and Castillo are a formidable pair. Haas keeps the action flying while deftly juxtaposing Columbus's work with the realities of his home life. The duality makes him an accessible antihero.

Haas doesn't know how to write a boring page.
— David Benioff, NEW YORK TIMES bestselling author of CITY OF THIEVES, co-creator of GAME OF THRONES on HBO