Her Read: A Graphic Poem (Con[text]ual) (Hardcover)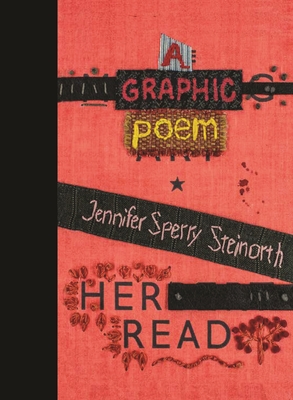 $29.95
Email or call for price.
Description
---
Her Read: A Graphic Poem is a hybrid text at once poetry and visual art. In the tradition of reusing canvases, Steinorth takes a seminal text, The Meaning of Art by Herbert Read and with the liberal use of correction fluid, scalpel and embroidery floss, transforms the book from art criticism into feminist verse. Though the maternal body appears with frequency in Read's illustrated text which spans from prehistory to the modern age, he includes zero female artists. Her Read: A Graphic Poem is an excavation of buried voices, a reclamation of bodies framed in gilt and an homage to those whose arts remain unsung.
About the Author
---
JENNIFER SPERRY STEINORTH's books include A Wake with Nine Shades (2019) and Her Read, A Graphic Poem, a Foreword INDIES Book of the Year recipient (2021), both from Texas Review Press. She has received grants from Vermont Studio Center, the Sewanee Writers Conference, Community of Writers, and the MFA for Writers at Warren Wilson College and her recent work appears in Black Warrior Review, Cincinnati Review, Michigan Quarterly Review, Missouri Review, Pleiades, Plume, Rhino, TriQuarterly, and elsewhere. An interdisciplinary artist and licensed builder, she lectures at University of Michigan and lives in Ann Arbor and Traverse City, Michigan.
Praise For…
---
"Her Read is a book of wicked elation. Enacting revelation through effacement, divination through artistry, and lyric out of transgression, Jennifer Sperry Steinorth has produced a poem that is 'love suffused with iron.' Dismantling and refashioning the patriarchal story of art, of women in art, of women making art, Her Read necessarily begins in pain, but it transmutes that pain into the energy of recovery, inscribing into art the utterances that were not found or welcomed there. Her Read is singular, a book that none of its readers will ever forget."
—Rick Barot, author of The Galleon

"The profound achievement of Jennifer Sperry Steinorth's collage poem is in its scope as well as its internal beauty. 'Why do we art?' it asks, and the answer leads us through history, raising what has been quietly, often painfully, subsumed under the traditional story, represented by a particular book, The Meaning of Art, by Herbert Read. Here comes the feminine, the imp, breaking through, or squeezing around, the old story, word by word! The result is less an erasure than a separate art, stitched upon, painted upon, cut into. It is a study in desire and erotic play—amusing, troubling, beautiful, and broken. It sings the pain of our grandmothers and great-grandmothers and celebrates the beauty of mutual love, male and female. Its originality and heart leave me breathless."
—Fleda Brown, author of Flying Through a Hole in the Storm

"The marvelous erasure poems in Her Read levitate then dart their needle back into history, in a holy unholiness. Against the masters and doctors and conquistadors and the 'I exhibition' of men, Jennifer Sperry Steinorth seeks 'a passage from what is' into 'the lake we make of she.' Along the way, 'paint' casts off part of its body, admitting 'pain' and pain becomes art. The resulting artifact is indeed an 'embroidered wound': a weave of arrows and mazes, gashes of thread, portals, and the collaged image of a severed oracle, where alternative worlds spring from each of her wounds: or, or, or. Radiating both harm and cure, there is nothing like this book: it is sublime, a masterpiece."
—Nomi Stone, author of Kill Class

"Impish and beautiful, and dazzlingly subversive, Her Read expresses the 'sacred rage' to be seen, to be beheld. The question Jennifer Sperry Steinorth eloquently poses, through writing over Herbert Read's misogynistic text on art, is: 'How / can / we who imagine ourselves dancing ... /  re-enter the / body'? This is not a book of poems, it's an archeology of palimpsests, a recovery by covering, a visionary art made out of the cadaver of art criticism."
—Philip Metres, author of Shrapnel Map

"For, by erasure, Steinorth reveals a hidden presence in those buried centuries of female artistry, an erasure of an erasure. Her trickster liberates not just new text, but creates, through additives, a brilliant hyper-inventive visual artistry. So that what begins in erasure transforms, as the book goes on, into a rich, layered graphic poem whose meanings emerge through skill in design and delight in pattern and texture—an artist's and a builder's and designer's eye collaborating with a poet's tongue, and a dancer's knowledge of how expression begins in the body.
—from an introduction by Eleanor Wilner, Recipient of Frost Medal for Distinguished Lifetime Achievement in Poetry

"Each page of Jennifer Sperry Steinorth's erasure project, Her Read, is so bursting with original artwork that the source text is not only transformed but transfigured. What's left of the original looms behind her paintings and drawings like a draft from the next room—not extinguished but banished, with little chance of parole. Steinorth's visual art is deeply embodied and unashamed—rendered in reds, creams, yellows, browns and organic, anatomical shapes that evoke womxn's real bodies, labors, triumphs, horrors. Think Louise Bourgeois. Her Read, too, is a kind of 'articulated lair' in which womxn's stories—the unbeautiful and impure—are un-erased, kept safe. Steinorth writes, 'It requires an exorcism not to define ourselves—regardless of gender—relative to these objects: womxn as told through the stories and paintings of men.' We're in luck, then, because Steinorth is an exorcist of the highest capability."
—Jane Huffman, founder of Guesthouse

"An artist's book? A poem? A graphic journey? All three and more, this curious, and curiously beautiful book, Her Read, by Jennifer Sperry Steinorth, published by Texas Review Press. The book follows a certain genre of artist's book, as an altered book, i.e. an existing book whose pages have been painted over, with certain words left visible, certain patterns in the painting leading through the text the poet/artist wants the reader to know. In this case, the original source (i.e. the book painted over) isThe Meaning of Art, a rather misogynist (at least by contemporary eyes) work of art history that almost entirely ignores women. Steinorth's work, on the other hand, is a triumph for women, and for all of us. The genre of the painted book, most famously represented by the British artist Tom Phillips's A Humument, is here distinguished by not only its beautiful varying surprises on each page, but by its readability, which is no small accomplishment when each page is thoroughly painted. What remains in Her Read is an ongoing story of finding oneself, showing oneself, posing an identity that is constantly in flux, expressed visually and textually. I thought to quote from it, but found that an impossible task, to separate text from visual art, which is as it should be in this perfectly realized graphic adventure." —Texas Institute of Letters Contest Judges: Edward Vidaurre, Charles Alexander, & Dr. Saba Razvi