Trace Letters and Number: Alphabet and Number Coloring and Handwriting Practice workbook for kids Preschool writing Workbook with Sight words fo (Paperback)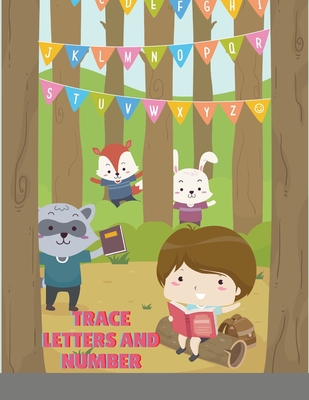 $10.99
Email or call for price.
Description
---
Adorable, Fun and Engaging Preschool Workbook 68 page
My Best Toddler Coloring Book is the only jumbo toddler coloring book that introduces early counting and simple
word skills―in addition to shapes, letters, numbers, and animals―with over 100 illustrations.
Toddlers learn best while having fun. My Best Toddler Coloring Book helps children ages 1,2,3,4 and
5,6,7,8,9,10,11,12 - learn fundamental concepts like reading and counting through coloring.
In the colorful, eye-catching pages of My Best Toddler Coloring Book, you'll find:
Fundamental learning concepts - numbers, letters, shapes, colors, animals, simple words, and counting
Bold lines - helps toddlers stay within the lines and reinforce the shapes found in this toddler coloring book
More than 100 familiar illustrations - perfect for building fine motor and recognition skills
Shapes - Circle, Oval, Square, Rectangle, Triangle, Star, Heart, & Diamond
Numbers - 0, 1, 2, 3, 4, 5, 6, 7, 8, 9,& 10.
Counting - Guided counting from 1 to 10 of each shape
Coloring - Every page is of giant size (8.5 x 11 inches), fun to color, and is presented in the super cute images
that every toddler would sure to enjoy.
My Best Coloring Book is an awesome coloring book for fun and learning that inspires hours of enjoyment―at home
or in the classroom.
It is most suitable for kids age between 1- 5 years, but also suits any child who loves coloring and knowing
the basics in a much more fun and exciting way
Letters
Every letter is a new territory for your child. The first step is to get to know the letter and practice
through the correct pen guidance by simply tracing it. This is followed by a word containing the letter
you have just learned. So your child learns to put the letter in a word. Encourage your child to read the
word aloud to directly practice the corresponding sound. Finally, your child learns to write the letter freely
and independently.
Numbers
To understand the meaning of numbers, your child starts counting picture elements. Then, just as with letters,
he or she will have to trace the numbers. As soon as they become more confident, free writing follows the number
you have just learned, with guidelines ensuring that the number is placed at the correct height.
s