Don't Mix Up My Puppy! (Board book)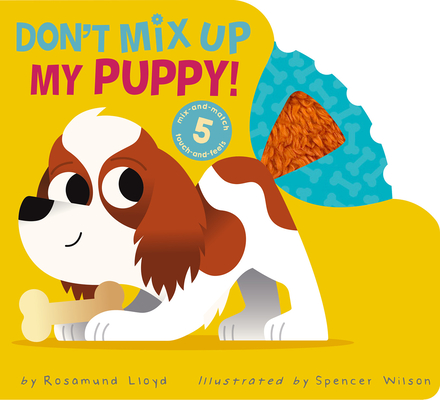 Description
---
In this fun, engaging board book, which features five touch-and-feel textures, children can spin the wheel to change the look of each puppy.

Developing hand-eye coordination is a key skill for young children, and this sturdy board book makes that process fun! Children will love to spin the wheel to mix and match their very own puppies. The wheel contains five different touch-and-feel textures for little hands to explore as they add a different tail to each puppy. Young readers will also learn words that are used to describe the touch-and-feel textures, such as silky, furry, fluffy, and more.
About the Author
---
Rosamund Lloyd lives in London with her two boys (one son, one husband). She loves visiting museums in the big city and baking cakes in her tiny house.

Spencer Wilson is an illustrator who loves to create bold, colorful, character-based images, and finding inspiration from his kids, cats, friends, and the things around him.
Praise For…
---
Discover some exciting dog tales—or rather, tails—in this interactive board book.

New and future readers will meet a bevy of doggies as they figure out which tail belongs to which canine. The dog on the cover will have to share, as they aren't given their own. Each clue is presented in a formulaic text block: "Don't mix up my puppy! Her tail is spotted and dotted." "Don't mix up my puppy! His tail is black and velvety." Readers are then tasked with turning a blue wheel in the upper right-hand corner of the page to find the correct tail—although once you've found the first, the others appear in order when the wheel is turned clockwise. The gimmick of the wheel relies on color and texture, with each tail made of furry material. The back of the wheel features images of the dogs, but these don't align with the correct answers. The five internal dogs are identified on the back of the book—a silky terrier, poodle, Irish setter, dachshund, and Dalmatian, but the cover dog (which may be a King Charles spaniel) is never identified. The Irish setter tail makes a good pairing for the cover, however, so each canine looks complete. The book is charming, and the illustrations are delightful. The wheel's solid construction assures that this one will survive many spins before retirement.

One doggone cute book! (Board book. 1-3) --Kirkus Reviews