The Christmas Ring (Paperback)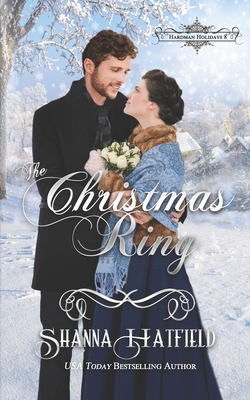 $10.99
Email or call for price.
Description
---
She's desperate to forget her past
He's determined to give her a future
Victoria Carter flees from the gossip that dogs her every step. She hopes to embark on a new chapter of her life at her brother's home in eastern Oregon. What she didn't plan on was the stagecoach being robbed on the way there, or the immediate attraction she feels to one of the outlaws. Then she meets a telephone lineman she finds charming, witty, and kind. Despite her intentions to avoid all members of the male species, her affections are torn between the two men.
A man of many secrets and talents, Trace Travers knows he has to stay focused on his work. Yet, the lovely sister of one of his friends threatens to capture not just his attention but also his heart. Resolved to ignoring Victoria and the emotions she stirs in him, he discovers she is a difficult woman to overlook, especially when she keeps popping up in the most unexpected places.
Trace and Victoria are swept into the town's festivities as they ring in the holiday season. But will Christmas bring the forgiveness they both need if they hope to have a future together? Enjoy this sweet holiday romance, rich with history, laughter, and heartwarming Christmas cheer.
˃˃˃ Read all the books in the Hardman Holidays series
The Christmas Bargain - As owner and manager of the Hardman bank, Luke Granger is a man of responsibility and integrity in the small 1890s Eastern Oregon town. When he calls in a long overdue loan, Luke finds himself reluctantly accepting a bargain in lieu of payment from the shiftless farmer who barters his daughter to settle his debt.
The Christmas Token - Returning to the community where she spent her childhood years, Ginny Granger plans to relax and enjoy a peaceful visit with her brother. Her unexpected encounter with the boy she once loved makes her trip anything but restful.
The Christmas Calamity - Arlan Guthry's uncluttered world tilts off kilter when the beautiful and enigmatic prestidigitator Alexandra Janowski arrives in town, spinning magic and trouble in her wake as the holiday season approaches.
The Christmas Vow - Sailor Adam Guthry returns home to bury his best friend and his past, only to fall once more for the girl who broke his heart.
The Christmas Quandary - In need of a place to recuperate from a work injury, Tom Grove heads home for the holidays. He didn't plan on his parents acting like lovesick newlyweds, being asked to teach at the school, or falling in love.
The Christmas Confection - Will Hardman's sweet baker be able to soften Fred Decker's hardened heart?
The Christmas Melody - Can a determined woman bring holiday cheer to a man in exile? ?
The Christmas Ring - She wants a fresh start. He wants to capture her heart.
Scroll up and order your copy today.