The Ultimate Serial Killer Trivia Book: A Collection Of Fascinating Facts And Disturbing Details About Infamous Serial Killers And Their Horrific Crim (Hardcover)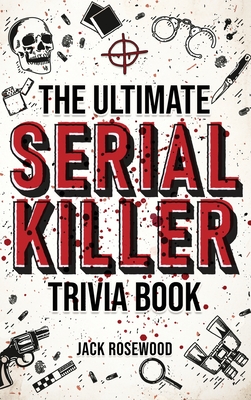 $24.90
Email or call for price.
Description
---
Have you ever wanted to know everything there is to know about serial killers?
Ever pondered the differences between psychopaths and sociopaths?
Want to know exactly why cannibals eat human flesh?
Want to read about the most downright bizarre serial killer motivations of all time?
What jobs attract the most serial killers? How many uncaptured murderers are walking our streets right this second? How do female killers differ from males? What deluded maniac killed people because he thought it would stop earthquakes? What movie franchise has inspired the most copycat murders?
The Ultimate Serial Killer Trivia Book answers all these questions and much, much more
- Featuring obscure serial killer trivia you'll struggle to find anywhere else.
- Up-to-date information on active serial killers and ongoing murder cases.
- 11 distinct categories, from The Psychopathic Mind to Serial Killing Cannibals to Killers Inspired By Media
- Eerily fascinating trivia pieces regarding famous serial killers and obscure murderers you've never heard of.
- Succinct information on psychopaths, killer kids, occult serial killers, murderous doctors, cannibals, necrophiles and the world's strangest ever murders.
The public's obsession with serial killers and weird murders is growing by the day, with more TV shows, movies and books now detailing the crimes of these human monsters. There's no denying that we're all fascinated by serial murder - it's part of the human experience.
Whether you're fanatical about true crime or brand new to the genre, The Ultimate Serial Killer Trivia Book has something for everyone. Even the most hardened true crime buff will find some new information here
Are you ready?