A Deadly Affair (Paperback)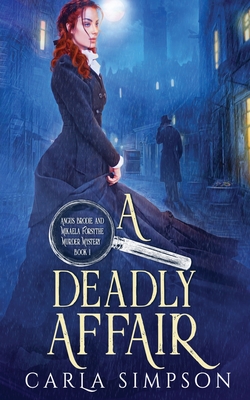 $13.64
Email or call for price.
Description
---
London 1889 - Murder, mystery, and two people in a most unlikely partnership.
She's an unconventional lady who has traveled the world, practices the art of self defense most excellently, and has an interesting tattoo in, ahem... a very unusual place.
He's a former member of the Metropolitan Police, now a private investigator, who grew up on the poverty ridden streets of Edinburgh and has worked the dangerous back alleys of London's notorious East End.
A vicious murder brings them together in a race against time that takes them from the sordid back streets of London into the elite private clubs of the powerful and rich, to find the killer before he strikes again and prevent a deadly scheme.
A scandalous affair, deceptions, and secrets will challenge what they know and what they believe.
Come along as the lady and the detective join forces in an amazing time of new inventions, startling discoveries, and unexpected revelations, where a young woman who doesn't rely on anyone is forced to trust the irascible Scot who is a tough as they come and just might learn a thing or two from her... if they both don't end up dead