Saving Galahad (Paperback)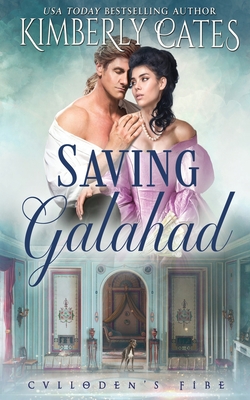 $14.69
Email or call for price.
Description
---
A long awaited sequel to Kimberly Cates beloved Culloden's Fire series. "Kimberly Cates is magnificent. Her every book is to be treasured again and again
-Teresa Medeiros
An Embattled Lord: Known throughout his charmed life as "The Lucky Lord Lieutenant," Nate Rowland, Viscount of Harlestone, sees his fate change in an instant on the killing field of Culloden Moor. A serious wound suffered in battle shatters not only his life, but his marriage. Upon his return to his estates, the wife of his hot-blooded youth turns faithless. At a birthday gathering held by Viscountess Rowland intended to impress the ton, she is found strangled on the lawn outside the ballroom-- with Nate named by his enemies as the prime suspect.
Scandal's Daughter: Born of an infamous love affair between an Earl and his mistress, Christianne Slade has always adored Nate Rowland despite her being the object of public scorn beyond the Glenlyon family estate. Since childhood, Nate has been her 'Galahad' to his 'Mistress Mayhem, ' but both have always known there could be no future between them because of Nate's duty to his aristocratic name. When Nate's wife is killed, Christiane defies society and slips into the underworld of the demimonde, determined to discover the dark forces bent on destroying him and to save him from the hangman's noose.
A FORBIDDEN LOVE: Even if Christianne succeeds in the nearly hopeless task of clearing Nate's name, can her devotion and courage rescue the viscount from a loveless future? Nate faces an impossible choice: Surrender to a loveless marriage to produce the noble heir the Rowland name demands or defy his heritage for the woman who won her heart.