The Business of Blood (Paperback)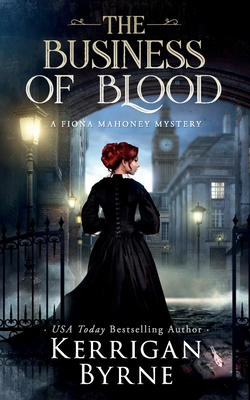 $12.99
Email or call for price.
Description
---
With intriguing twists, blood-chilling discoveries, and dazzling prose, USAToday Bestselling author Kerrigan Byrne shows that a woman's work is never done, even when she is sleuthing out a serial killer.

London, 1890. Blood and death are Fiona Mahoney's trade, and business, as they say, is booming.

Dying is the only thing people do with any regularity, and Fiona makes her indecorous living cleaning up after the corpses are carted away. Her childhood best friend, Mary, was the last known victim of Jack the Ripper. It's been two years since Fiona scrubbed Mary's blood from the floorboards, and London is no longer buzzing about the Ripper, but Fiona hasn't forgotten.

And she hasn't stopped searching for Jack.

When she's called to a murder in the middle of the night, Fiona finds a victim mutilated in an eerily similar fashion to those of the Ripper, and only a few doors down from Mary's old home. The relentless, overbearing, and irritatingly alluring Inspector Grayson Croft warns her away from the case. She might have listened, if she hadn't found a clue in the blood. A clue that will lead her down a path from which there is no return.As a killer cuts a devastating swath through London, a letter written in blood arrives at her door, and it is only then that Fiona realizes just how perilous her endeavor is. For she has drawn the attention of an obsessive evil, and is no longer the hunter, but the prey. Fiona Mahoney is in the business of blood.