Constellations for Kids: An Easy Guide to Discovering the Stars (Paperback)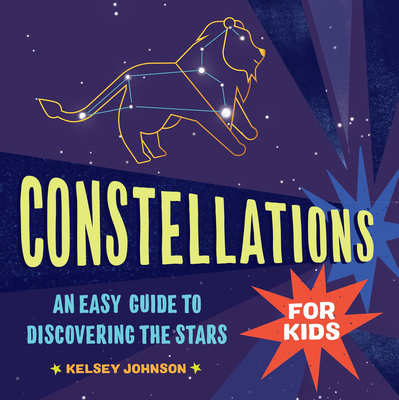 $9.99
Email or call for price.
Description
---
The perfect gift for any curious, space-loving kid! Explore the constellations with this guide to navigating the sky for ages 6 to 9

Over thousands of years, stargazers have noticed shapes in the stars, also called constellations. Different cultures have seen mythical animals and heroes within these constellations, and many travelers have used the stars as a guide for their journeys. Constellations for Kids—by astronomy professor Kelsey Johnson—shows you how to read the night sky and discover more than 25 unique constellations as you learn about outer space and the solar world.

From Canis Major to Cassiopeia, each constellation in this astronomy book for kids includes easy-to-read sky maps and step-by-step instructions for identifying it in the night sky. You'll also learn how to use bright stars as guides to show you where to find each constellation!

This constellations book for kids includes:

Beginner-friendly content—Build up your knowledge of astronomy with simple explanations of key concepts that help you understand stargazing.

Simple line illustrations—Each constellation includes an illustration of what it looks like in the sky, making it easier for you to find them.

Fun facts mythology—Learn about all kinds of cool celestial facts and ancient mythology. Did you know Lyra is the only Greek constellation that is a musical instrument?

Explore the stories written in the stars with this fun guide to stargazing for kids!
About the Author
---
KELSEY JOHNSON is a professor of astronomy and founding director of the award-winning Dark Skies, Bright Kids program. She has won numerous awards for her research, teaching, and promotion of science literacy. Her TED Talk on the importance of dark skies has more than 1.5 million views, and her writing has appeared in nationwide publications.
Praise For…
---
"This book is a great addition to classroom and home bookshelves. Constellations for Kids helps children learn tools to find the same patterns in the night sky (NGSS 1-ESS1-1, ESS1.A) and connects STEM and social studies through the stories ancient people imagined in the constellations. It inspires observing, imagining, and wondering about the universe we live in." —Danielle Harlow, Professor of Science Education, UC Santa Barbara

"I love Dr. Johnson's simple approach to helping kids learn the constellations. It should not only help kids appreciate the night sky but should also motivate them to learn more about astronomy and science and in general." —Jeffrey Bennett, Founder of Big Kid Science

"One of the most daunting tasks for a novice stargazer is learning to identify constellations. However, Kelsey Johnson makes it a snap with easy-to-understand directions, simple drawings, and fun descriptions of the stars. Constellations for Kids is your roadmap to the sky!" —Phil Plait, Founder of Bad Astronomy and author

"Constellations for Kids will appeal to the natural curiosity children bring to worlds beyond our own. The author has provided text and illustrations that are inviting and accessible to readers. Kelsey Johnson combines her deep knowledge of astronomy with her deep and passionate understanding of children. This book deserves a place in every elementary and middle school library." —Art Stow, Associate Middle School Principal