The Little Witch's Guide to Backyard Magic: A Kid's Handbook of Green Magic, Easy Spells, and Fun Activities That Celebrate Nature (Paperback)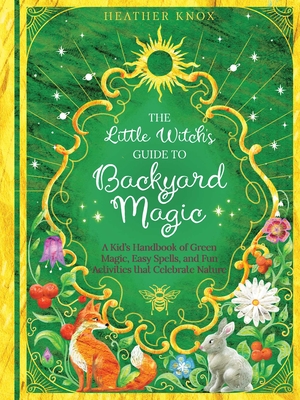 $12.95
Email or call for price.
Description
---
Discover the magic to be found in your very own backyard with the help of this fun and creative green witchcraft guidebook for kids!
The Little Witch's Guide to Backyard Magic
is a joyful guide that focuses on the basic principles of positive, nature-based "green" witchcraft, which celebrates and fosters a deep respect for the natural world. Kids will discover the true wonder that the earth has to offer through the fun activities, simple spells, and cute crafts in this book, including:
Easy divination, like tea leaf reading
Crystal magic
Weather magic
Celebrating the seasons
Ideas for magical gardening and working with plants
Inviting and working respectfully with the friendlier fae
Exploring the five elements
Learning about the influence of the sun, moon, and stars
And so much more!
Through play and the exploration of the natural world, kids will experience the interconnectedness of all things and will learn that as much as magic can be found in the world around us, so too does it come from within us. This handbook not only fosters a love of nature but will also nurture kids' own creativity, independence, and intuition.
About the Author
---
Heather Knox is an author, teaching artist, and witch who resides in the oft-frozen tundra of Wisconsin. She teaches and works in both higher education and literary arts communities, helping writers of all abilities find their magic and grow their craft. She's served on the editorial board for a few literary arts publications in the past and holds an MFA from the Iowa Writers Workshop. Heather is the proud momma of a spirited little witch who loves communing with caw caws and dancing in the rain.