Spirit Quest Native American Indian Legends Stories and Fables (Walking with Spirits) (Paperback)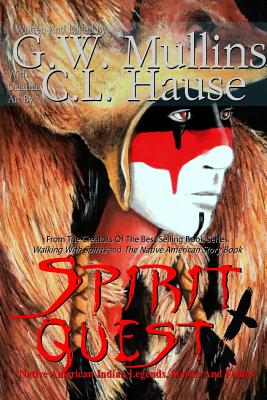 $23.09

In Our Warehouse - Expected arrival in 2-5 days
Description
---
The mythology of the North America Indians is a cultural treasure trove, but many of these myths and legends have been hidden away in many old books and documents. So this vast body of wisdom has been out of reach of most people... until now.
Through storytelling, the rich history of the Native American tribes is alive and well today. It has been shared and still pays tribute to fallen heroes of the past. It is through the glimpses into the past, and these stories much like the ones that are contained in this book, that you can see what a proud heritage they possess and how in tune with the Earth Native Americans really are.
In this book there is a landscape of different histories and you are presented with a true look at their beliefs. Understand the Native American people a little better and understand where they have come from and what they can offer the world. By exploring these stories, you are offered a glimpse into an often forgotten past.
This large volume is split into the categories of: Origin Tales, Animal Tales, People Tales, Creation Tales, Strange Tales, Itkomi Tales, Ghost Tales and Quotations. Among the stories included in this collection are: The Story of the Drum, The Origin of Corn, The Legend of the Peace Pipes, Wakiash and the First Totem Pole, The Origin of Tobacco, The Toad and the Boy, Bear-Woman and Deer-Woman, Song of the Buffalo, The Simpleton's Wisdom, The Transformed Grandmother, The Foster Child of the Deer, What's This? My Balls for Dinner?, The Search for the Corn Maidens, Legend of the Cherokee Creation, Children of the Sun, The Destruction of the Bear, The Ghosts' Buffalo, The Skin Shifting Old Woman, and many, many more.