Rosa Pionera, ingeniera / Rosie Revere, Engineer (Los Preguntones / The Questioneers) (Hardcover)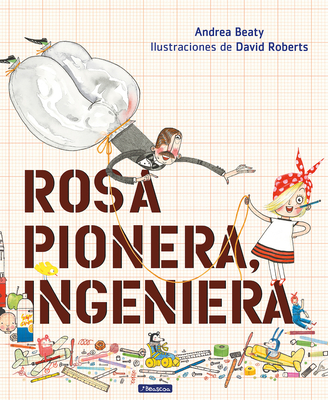 $17.95

In Our Warehouse - Expected arrival in 2-5 days
Description
---
Rosa Pionera soñaba con ser una gran ingeniera…
Sola en el ático, mientras la luna brillaba,
hacía los artefactos que tanto disfrutaba.
 
Por timidez, no se atrevía a decir nada, rebuscaba en la basura y recogía cachivaches que atesoraba. Con ellos construía sus inventos, pero nadie podía ver sus descubrimientos. Todo siguió igual hasta que el otoño llegó y su pariente más antigua se presentó. ¡Su tía-bisabuela Rosie! Y a Rosa se le ocurrió una idea de lo más atrevida: construir un artefacto para hacer volar a su tía.
 
Un álbum muy divertido que celebra la creatividad y nos anima a perseverar en nuestras pasiones.
 
ENGLISH DESCRIPTION

Rosie was dreaming to be a great engineer

Rosie may seem quiet during the day, but at night she's a brilliant inventor of gizmos and gadgets who dreams of becoming a great engineer. When her great-great-aunt Rose (Rosie the Riveter) comes for a visit and mentions her one unfinished goal —to fly— Rosie sets to work building a contraption to make her aunt's dream come true. But when her contraption doesn't fl y but rather hovers for a moment and then crashes, Rosie deems the invention a failure. On the contrary, Aunt Rose inisists that Rosie's contraption was a raging success. You can only truly fail, she explains, if you quit.
About the Author
---
Andrea Beaty se crio en el sur de Illinois en una ciudad tan pequeña que conocía a todo el mundo y todo el mundo la conocía a ella. Pasaba los veranos correteando por los campos y bosques en busca de aventuras. Le gustaba mucho leer, sobre todo libros de misterio. Y su ambición secreta era protagonizar un musical en Broadway. Estudió Biología e Informática la Universidad del Sur de Illinois. Luego trabajó para una compañía de software de ordenadores. Ahora vive en Chicago con su familia. Visita muchas escuelas cada año para compartir su amor por la lectura haciendo también talleres de escritura con niños y educadores.

David Roberts, nació en 1970 en el Reino Unido. Ha ilustrado un gran número de libros para autores muy conocidos tanto para adultos como niños.
Praise For…
---
Críticas:

«Una celebración de la creatividad y la perseverancia contada en rima que aporta dinamismo y un ritmo constante a la historia, consecuente con la celebración de su heroína, Rosa. Es una creadora imaginativa que oculta sus méritos (debajo de la cama) después de que se burlaran de uno de sus inventos.».-Booklist

«Escrito con una rima deliciosa y lleno de historias solapadas de mujeres en la aviación, es una inspiración perfecta para jóvenes creadores.».-Cory Doctorow, Boing Boing