The Story of Trailblazing Actor Ira Aldridge (Paperback)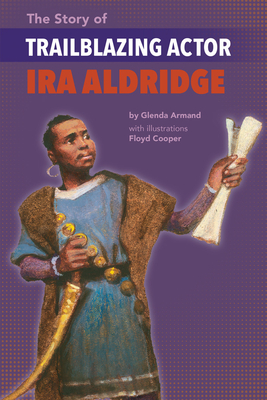 $8.95
Email or call for price.
Description
---
This new entry in the innovative "Story" line of chapter-book biographies features Ira Aldridge, an African American actor considered one of the greatest Shakespearean performers of the nineteenth century, and an outspoken advocate for the abolitionist movement in the United States.
Ira Aldridge dreamed of being on stage, performing the great works of William Shakespeare. He spent every chance he got at the local theaters, memorizing each actor's lines for all of the great plays. Ira knew he could be a famous performer if given the chance. But in the early 1800s, only white actors were allowed to perform Shakespeare. African American actors had to play in musicals at the all-black theater in New York City. Despite the discouragement of his teacher and father, Ira determinedly pursued his dream and set off for England, the land of Shakespeare. There he honed his acting skills and eventually performed at the acclaimed Theatre Royal Haymarket. Through perseverance and determination, Ira became one of the most celebrated Shakespearean actors in Europe, and a public supporter of the abolitionist movement. This chapter book edition includes black-and-white illustrations as well as sidebars on related subjects, a timeline, a glossary, and recommended reading.
About the Author
---
GLENDA ARMAND worked for many years as a teacher and school librarian in Los Angeles, California. She won Lee & Low's New Voices Award for the manuscript for Love Twelve Miles Long. Glenda loves reading about history and is passionate about sharing the stories of enslaved African Americans and little-known historical figures. She lives with her husband in West Covina, California. You can visit her online at glenda-armand.com. FLOYD COOPER has been honored four times for his illustrations by the Coretta Scott King Award. Born and raised in Tulsa, Oklahoma, he received a degree in fine arts from the University of Oklahoma. In 1984 Frank came to New York City to pursue a career as an illustrator of books, and he now lives in Easton, Pennsylvania, with his family. You can visit him online at floydcooper.com.