The Occurrence: A Political Thriller (Hardcover)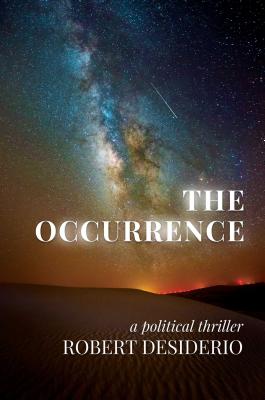 Email or call for price.
Not Available at This Time
Description
---
As seen in Town & Country!

The discovery of an ancient cuneiform guides an unlikely group to a secret portal buried in the desert long ago.

A near-death experience in the Iraq desert transforms the lives of the FBI's most wanted terrorist, and his young disciple, and alters the fate of a Pulitzer Prize-winning female journalist, and a decorated U.S. Marine about to be executed. Guided by a visionary young girl from Peru, they become aware of an ancient past, and an energy force placed deep under the desert sand thousands of years ago.

The Occurrence is an unforgettable story of enemies, caught in the tragic sweep of terrorism, whose lives are forever changed. A gripping and unique political thriller. A story of uplifting beauty and love that speaks to the mystery of our collective evolution, and unveils a DNA we all share.
About the Author
---
Robert Desiderio grew up in The Bronx. He was an actor for most of his life, but when he started writing it changed everything. His script for the film Save Me premiered at the Sundance Film Festival and received wide acclaim for its complexity. The NY Times wrote, "Save Me has a lot of heart." The LA Times wrote, "A thoughtful production of exceptional insight and quietly devastating power." The Occurrence carries similar literary qualities. Robert is also developing projects for film and TV. He lives in Los Angeles and New York City with his wife, Judith Light.
Praise For…
---
"In The Occurrence, Desiderio delivers a haunting political thriller that stayed with me long after I turned the last page."
— LeVar Burton

"An intelligent and captivating thriller. The Occurrence takes a true-to-life terrorist plot and then twists the story, forcing a reexamination of the reader's faith. I dare you to read this and not come away with a different perspective on all that's happening in the world today. A must-read!"
— Chris Goff, Award-winning Author of "Dark Waters" and "Red Sky"

"A rare gem. Desiderio takes readers on an unforgettable journey where the past and present collide at the very heart of human existence. Flawed, compelling characters and a brilliantly fresh premise make The Occurrence a book that will stay with you long after the final page. Sharp, sage, sensational."
— K.J. Howe, International Bestselling Author of "Skyjack"

"Robert Desiderio delivers a thought-provoking political thriller with a premise—and flawed but sympathetic characters—that will haunt you long after you hit the end. A brilliant read from a fresh voice in thriller fiction. The Occurrence is a must read!"
— Dawn Ius, acclaimed author of "Lizzie"

"Script writer Desiderio makes his fiction debut with an uplifting political thriller. Those with a mystical bent tired of conventional Middle East thrillers will welcome this."
— Publishers Weekly

"Robert Desiderio crafts a gripping story with a courageous message of love as a radical, unifying force in the midst of our divisive global climate."
— Matthew Weiner, creator of "Mad Men" and "The Romanoffs", and author of "Heather, the Totality"

"This debut novel from Robert Desiderio is a sharp, high-octane thriller that touches on global politics, supernatural experiences, and the long, rocky path to discovering true purpose. If it feels ripe for the big screen, don't be surprised; Desiderio is an accomplished screenwriter and actor."
— Town & Country