He Leads: Mountain Gorilla, the Gentle Giant (Hardcover)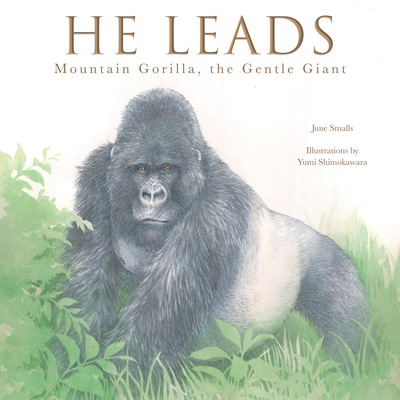 $17.99
Email or call for price.
Description
---
He is the king. He leads his family, his troop.
His silver back shows his age and experience.
He guides them through thick forests and steep mountains.

The majestic mountain gorillas live in family groups, led by a powerful silverback. Juxtaposing the apes' awesome strength and surprising gentleness, He Leads tells the story of family loyalty and love. With stunning, lifelike illustrations and facts on each page, this beautiful picture book is a monument to these endangered gentle giants.
 
About the Author
---
June Smalls is a member of the Society of Children's Book Writers and Illustrators and a lover of literature. She resides in Northern Virginia with her hubby, The Kid, and an ever-growing assortment of animals.
Praise For…
---
"The mighty silverback gorilla is king, but he's also a gentle giant.

In straightforward text, the opening spreads explain that a dominant male in a troop of gorillas "leads his family." He "guides them through thick forests and steep mountains" in central Africa to suitable feeding spots. It is up to him to protect them as they rest, groom, socialize, and play in the middle of the day. Sometimes, "if a member of his troop misbehaves, he will display his dominance," but mostly he is gentle, dignified, and nurturing, especially when he plays with the infant gorillas. Although an adult male mountain gorilla can grow up to 6 feet tall and weigh more than 400 pounds, the dominant silverback is actually a "shy" creature who is "content to lounge and eat most of the day." With one to three pithy sentences of main text on each double-page spread and longer sidebar text providing additional fascinating facts, this inspiring story gives insight into these imposing yet graceful apes as well as the family dynamics of gorillas, the environment in which they live, and how their habits closely parallel those of human families. Shimokawara's beautifully detailed watercolor illustrations portray these intelligent creatures with great realism and empathy.

An important resource for building appreciation and awareness of a vulnerable animal species. (bibliography) (Informational picture book. 3-8)"
- Kirkus Review
"Detailed illustrations are the highlight of this title. Basic text, with additional facts added at the bottom of each spread, share the world of the mountain gorilla. A male silverback is the central figure in the text that introduces the species and gives further information about this fascinating relative of human beings. While not lengthy enough for report-writing, the factual information would make for a solid starting point to student research. The illustrations are full of texture and emotion connecting readers to the creature in a way that honors the mountain gorilla's strength and dignity. No back matter other than a list of sources is included. 
VERDICT
 The illustrations are visually appealing and the text does its job serviceably. For an introduction to the species, this title would make a fine addition to collections needing a resource on the mountain gorilla."
–John Scott, School Library Journal