Goodnight Whispers (Hardcover)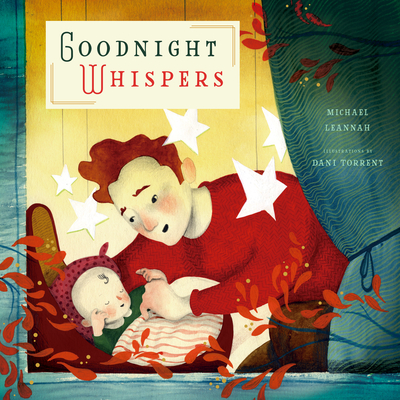 $16.99
Email or call for price.
Description
---
You are strong. You are brave. You are so incredibly good. On an ordinary night in an ordinary house, a father's ordinary words do something extraordinary. Lulled to sleep by these whispered affirmations, his baby girl grows into a fun-loving child, a confident teen, and then a courageous young woman. As she ventures forth into the world on her own, her father's affectionate affirmations—now carried in memory—bolster her through life's challenges and, like whispers on the night wind, come full circle to strengthen her aging father and young son of her own. With breathtaking illustrations from Spanish artist Dani Torrent, Goodnight Whispers is a heartwarming story about a father's love and the power of affirmation.
About the Author
---
Michael Leannah writes both fiction and nonfiction for children and for adults. In addition to authoring Most People (Tilbury House, 2017), Michael has been published in Scholastic's Instructor and Highlights for Children, Countdown, and Ladybug magazines. He has been an instructor in the Milwaukee and Sheboygan public schools for more than thirty years and is the creator of We Think with Ink, a writing program for elementary and middle school students. He lives with his family in Sheboygan, Wisconsin.
Illustrator, painter and writer, he got a degree in Art History at the University of Barcelona, and studied illustration at La Llotja Arts and crafts school, in Barcelona. He completed his academic training with film direction studies and doctoral courses of Fine Arts at the University of Barcelona. He won the Young Creators prize from the Fita Foundation, the second prize in the international drawing competition in Zabrze, Poland, and the second prize of BIISA Festival in Amarante, Portugal. He has been selected at international festivals such as the CJBooks of Korea, or the Illustrakids of Italy, and has exhibited his pictorial work in France, Italy and Hungary. He has published books in Spain, France, Belgium, Italy, the United States, Korea, China and Estonia.
Praise For…
---
"A dad-side complement to Love You Forever. As the book opens, the unnamed dad tucks his wee infant daughter in and whispers, 'You are the most wonderful girl in the world,' in her ear. He whispers like loving affirmations every night as the baby grows to toddlerhood and beyond, adapting his statements to her developmental stage and her activities. But where Robert Munsch and Sheila McGraw's mother's helicopter tendencies achieved pathological status, this dad seems to support his daughter's maturation. When she moves 'far away,' he is present only as a photo in her apartment and his remembered voice encouraging her through the inevitable difficulties of independence. But when he ails, she returns with her own babe in arms to care for him, whispering affirmations first in his sleeping ear and then her own infant's. Torrent's naïve-style illustrations are suffused with warm hues, visually reinforcing the paternal love the book expresses, though at times compositions are a little hard to decode. The dad presents white while the daughter has East Asian features; there is no other parent in evidence, allowing readers to see a single dad, a transracial adoption, and/or an interracial family with another parent simply out of the frame. Will this book have grown adults breaking down in tears in children's sections as Love You Forever is wont to do? That remains to be seen, but at least it offers a storyline without breaking and entering. (Picture book. 4-7)"
—Kirkus Reviews
"A whispered word can resonate with more depth and clarity than a long speech or a loud shout."
—Michael Leannah