The Elephant Doctor of India (Hardcover)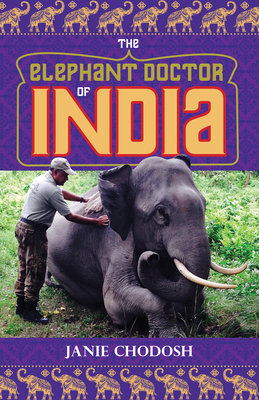 $19.99

In Our Warehouse - Expected arrival in 2-5 days
Description
---
" Dramatic, moving, and packed with fascinating elephant facts, young readers will find inspiration and excitement on every page." —Sy Montgomery, author of The Soul of an Octopus and Kakapo Rescue  
The true story of the last viable wild Asian elephant population and the man dedicated to saving them  
Early on a January morning in 2015, a young bull elephant touched on a sagging electric line in the Paneri Tea Plantation in the Udalgari District of Assam, India. The elephant's soft-padded feet conducted the current and the animal fell, kicking in the mud. The local veterinarian called to the scene thought the tusker was going to die.  
The forest department warden called the one person who could help: Dr. Kushal Konwar Sarma, India's beloved elephant doctor. 
The Elephant Doctor of India brings the middle-grade reader into the heart of Assam, a remote land of tea plantations, paddy fields, and ancient forests, to tell the true story of the last viable population of wild Asian elephants and one man who is dedicated to saving them.  
Brings Dr. Sarma's incredible story—and the lives of these magnificent animals—to readers in classrooms everywhere 
About the Author
---
Janie Chodosh is the coauthor of Wild Lives, Leading Conservationists on the Animals and the Planet They Love. A former elementary and middle-school educator, she now teaches ecology and environmental science at Santa Fe Community College. She lives in Santa Fe, New Mexico.
Praise For…
---
"An inspiring story of compassion and humanity, all in the service of our remarkable planet. Required reading for every person who dreams of making a difference." —Sneed B. Collard III, author of Hopping Ahead of Climate Change: Snowshoe Hares, Science, and Survival  

"The Elephant Doctor of India is a great read about a very special veterinarian in India. Janie Chodosh has captured the warmth, personality, and dedication of Dr. Kushal Sarma perfectly. This is an elephant doctor who considers weekends just two extra days to help elephants needing his care. Janie Chodosh shares the joys of Dr. Sarma's many successful medical outcomes and the sad reality of those patients who cannot be saved. Each 'house call' in The Elephant Doctor of India is an adventure in determination to serve and, occasionally, a bit of unexpected hilarity." —Linda Reifschneider, president of Asian Elephant Support, www.asianelephantsupport.org 

"The world urgently needs to agree to leave room for the other animals, and the most powerful argument for doing so comes in the form of stories from the front lines of compassion. Janie Chodosh's fine book tells, in intimate detail, a story of longing, of dedication, of determination that these magical and mysterious and profound beings we call elephants must never lose their foothold in existence on Earth." —Carl Safina, author of Becoming Wild: How Animal Cultures Raise Families, Create Beauty, and Achieve Peace, and of Beyond Words: What Animals Think and Feel  
 

"A charming and informative work of nonfiction."—Kirkus Reviews

"This engaging narrative, which is part biography, part veterinary science, and a full appreciation of the Asian elephant, aims to honor the wonder of the elephant and the cultures of the people that share their environment." —School Library Journal

★ "…while vividly showing the doctor in action treating wild, working, and even circus elephants, [Chodosh] doesn't shy away from frankly inviting readers to examine their own feelings about keeping elephants captive. Whatever those feelings may be, these encounters make riveting reading." —Booklist, starred review